Tip
If you get lost, you can always go back to the "Support" button and start again.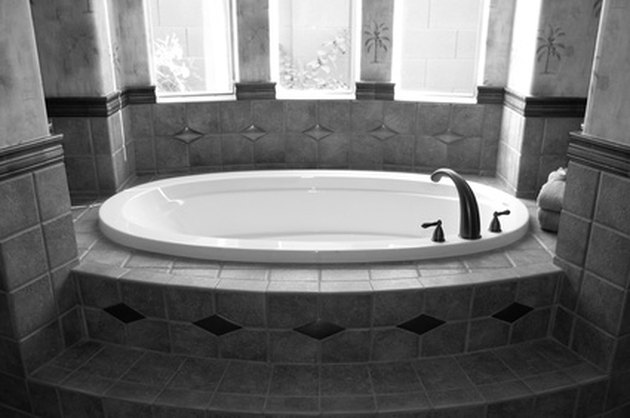 Finding the model number of your original Delta tub faucet, or any faucet for that matter, is a job for Sherlock Holmes. In the event you have lost, misplaced or just thrown away your Delta faucet's warranty and instruction manual, there is still a chance you can find the number. Through a process of elimination and evaluation, you can find the culprit.
Step 1
Log onto the official Delta Faucets website, hover your mouse pointer over the "Support" button. This will pop up a sub menu; lower your pointer to "Find Repair Parts" and left click. This will take you to the next page with two more options. Since you do not know the model numbers of your faucet, click the "Use our handy Wizard!" button.
Step 2
Click on the red "Start" button under the bath image. This will take you to the next page in the search with several choices. Click the button under the appropriate image, for Delta tub only faucets. Click the "Start" button under the "Standard Tub Only" image. The next page will give you more choices as to the collection or series of Delta faucets you are searching.
Step 3
Select your Delta faucet collection or series by clicking next to the collection name. Click on the "Continue" button. If you do not know the faucet collection, select the "No" button and then click on the "Continue" button.
Step 4
Select your Delta tub faucet's finish color and click the "Continue" button. If you are not certain of the true color, select the "Not Sure" option, and then click the "Continue Button."
Step 5
Identify your Delta Tub faucet from the list given. To view all your choices on one single page, select the "All" option on the top-right side of the "Identify Your Bath Product" page. Scroll down the page slowly until you spot your exact faucet match. There may be different styles and models of faucet that will use the same parts breakdown information.
---
Kelly Schuler is both a writer and a plumber. He self published "Plumbing Do's and Dont's" in 1999. Schuler has been a licensed plumbing and gas-fitting contractor since 2001 and a licensed journeyman plumber since 1986. He actively owned and operated his own plumbing and gas fitting business from 2001 to 2008.