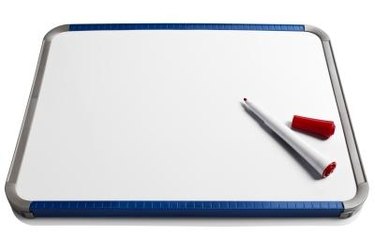 Whiteboards are also called dry-erase boards because they allow you to write on them with a marker and then simply wipe it off with a fabric eraser. Whiteboard surfaces are made of durable porcelain or vinyl, but over time they become scratched and discolored. Instead of replacing the whiteboard, you can resurface it for much cheaper. Resurfacing is a project that you can do on your own with a few supplies from the local hardware store.
Step 1
Remove the whiteboard from the wall and move it to an outdoor location or an indoor location that has adequate ventilation such as a garage. Spread a plastic drop cloth over a table or on the floor and set the whiteboard on it so that the finished side faces upward.
Step 2
Apply painter's tape to the edges of the white board until the edges are completely covered.
Step 3
Open a can of white, high-gloss, latex enamel paint and pour 2 to 3 cups into a paint tray. Insert a small paint roller, used for trim work, into the tray.
Step 4
Paint the entire surface of the whiteboard with the white latex paint to hide the discolorations and create a fresh, clean surface. Allow the paint to dry for one week until it is no longer sticky to the touch.
Step 5
Spray a lint-free cloth with window cleaner and wipe the surface of the whiteboard gently to remove any surface oils.
Step 6
Open a can of whiteboard coating, which is available at hardware and home improvement stores. Dip a foam brush into the clear mixture and apply it to the painted surface of the whiteboard in smooth, even strokes until the entire board is covered.
Step 7
Allow the paint to dry for one to two days. Remove the painter's tape from the edges and rehang the whiteboard on the wall.