A Sleep Number bed consists of an air mattress and comes with an air pump and hand-held controller to let you adjust the amount of air inside the mattress. The Sleep Number system ranks the amount of air within the air chambers on a scale of 0 to 100. The higher the number, the firmer the mattress. If you need to move your Sleep Number bed, it takes a little more time and effort to deflate and disassemble it than a regular bed. To make the process easier and safer, ask a friend to help you.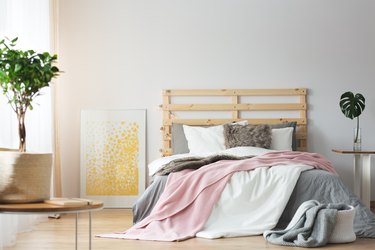 Deflate the Sleep Number Bed Mattress
To deflate your Sleep Number bed mattress, press the down arrow on the hand-held controller. If the air mattress is a double chamber, hold the "R" right or "L" left button at the same time as the down arrow button. When the display reads zero, all the air is out of the chambers.
Disassemble the Sleep Number Mattress
With your mattress in a flat position, unzip it. The zipper is between the pillow cover and base, and duvet-style beds have two zippers. Unzip only the bottom zipper under the edge of the mattress. Take the hose out of the mattress by pushing in the gray tab on the side of the bed and gently pulling out the hose. Repeat on the other side of the bed.
Some Sleep Number beds have two hoses per air chamber. Take out all internal mattress components, including the air chambers, foam border walls and corner locks. Unplug the bed's Firmness Control System, the large white unit with the hoses attached. Unplug the system from the wall and pack it securely to keep it safe. Pack the deflated air chambers into a separate box with packing material to keep them intact.
Disassemble the Sleep Number Base
If you have a FlexFit adjustable base, remove the mattress retainers by loosening the hex head bolts using a 7/16-inch socket. If you have an Eastern King, California King, Split King or FlexTop King bed, separate the two individual adjustable bases. Turn the two inside legs at the head of the bed counter-clockwise to loosen them, but don't remove them completely. Remove the bed straps, then screw the legs back in. Repeat at the foot of the bed.
To avoid damage and loss while you move your Sleep Number Bed, bag all hardware, double bag the mattress cover and protect every component with packing material in strong, secure boxes.