You can build your own double oven cabinet, but do your homework first. You can install double ovens in existing pantry or closet spaces or add them to the end of a row of upper and lower cabinets. Check the manufacturer's recommendations for the exact sizes required for the cabinet before you buy the ovens or start cutting the wood.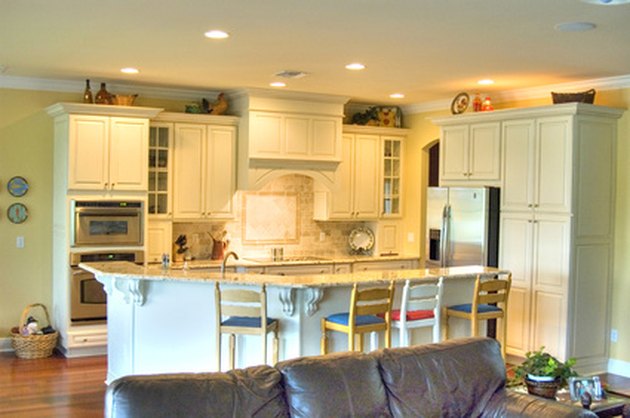 Double oven cabinet building and design
Step 1
Measure the available space carefully to determine the width of the oven to best fit. Ovens come in widths of 24, 27, 30 or 33 inches and will have specific cabinet requirements from the manufacturer. Get the specifications and follow the instructions exactly.
Step 2
Draw a sketch of the proposed placement of the cabinet and use the installation instructions as the measurement guide for the cabinet design.
Step 3
Determine the measurement of each of the pieces of the cabinet. Include both side pieces of the cabinet with a depth of 24 inches. Use 3/4-inch wood or laminated particle board. Cut the bottom and top from similar material. Reinforce shelving for the ovens as all of the weight of the ovens will be resting on these shelves. Make shelves using 3/4-inch plywood. Attach to the sides using metal brackets or cleats. Use wood glue and wood screws to attach all pieces and parts. Keep the cabinet square and the shelves level.
Determine the height of the upper oven using the counter height of 36 inches as the shelf height for the upper oven. Install the lower oven directly under the top shelf following the manufacturer's instructions for vertical spacing.
Step 4
Assemble full height 96-inch tall cabinets in place if you plan to have them go to the ceiling. Build a tilt-up cabinet to a maximum height of 92 inches to allow for the angle necessary get them into position. Make a platform toe kick of 4 inches under the 92-inch cabinet to bring it to full ceiling height.
Step 5
Adjust the height to match the top line of the existing cabinets or drop the cabinet height to only what is necessary to hold the ovens. Add open shelving above the new cabinet or open storage for platters, plates and trays. Add a rolling tray under the lower cabinet shelf to hold pot holders or cooking tools. Install pot drawers, double doors, or leave open space under the new ovens.
Step 6
Install the gas and electric necessary for the new ovens before installing the cabinets. Add additional circuit breakers and follow manufacturer's instructions for sizing and connections of gas lines. Eliminate the back of the cabinet completely to make installation of the ovens and gas and electric hook up easier.
Step 7
Follow all manufacturer's instructions and installation guides completely. Visit a kitchen cabinet showroom to get ideas about construction techniques and styles. Measure everything twice before cutting.