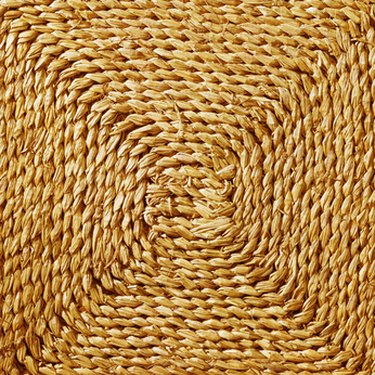 Sisal rugs are durable floor coverings made from natural plant fibers such as coconut and sea grass. Sisal rugs are stain resistant and--if cared for properly--will provide a lifetime of use. However, sisal rugs require special care and cleaning to keep them looking their best. Water that is left to sit on sisal rugs may cause a discoloration or stain on your floor covering. Fortunately, you can remove these water spots from your sisal rug with only a few simple items.
Step 1
Remove excess water from the sisal rug by blotting with paper towels. Blot the sisal rug, do not rub or scrub it.
Step 2
Vacuum your sisal rug to remove surface dirt, dust and debris.
Step 3
Apply a fine mist of cleaning solution approved for sisal rugs to the water stain. Alternatively, mist the water spot with a mixture of cool water and a mild liquid dish soap. Make sure you do not soak the rug.
Step 4
Blot the spots with a clean white cloth. Continue blotting and applying the cleaning solution until you have removed all traces of the water spots.
Step 5
Blot the sisal rug with a towel until the rug is dry.