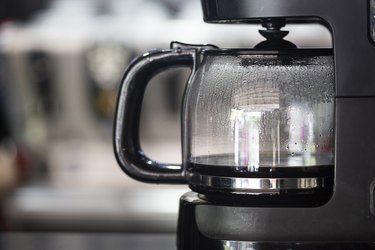 Mr. Coffee makes a variety of popular iced tea makers and espresso and coffee machines. Many praise the coffee machines for producing large quantities of high-quality coffee. People are also fond of the wide range of brew strength options offered in every Mr. Coffee machine and the fact that the machines keep coffee warm for two hours and then switch off automatically. Another thing customers appreciate about their Mr. Coffee machines is the delay brew setting.
Mr. Coffee Delay Brew Benefits
Mr. Coffee machines allow users to program for future coffee brews. This can be particularly useful for people who often find themselves very busy and short on time in the mornings, as it can take an extra step out of a hectic morning routine.
Another reason people like the Mr. Coffee delay brew setting is because it can fill the house with an enticing coffee aroma at a set time each day. Many who struggle to get out of bed in the mornings may find this scent to be just the impetus they need to get started with the day.
Mr. Coffee Delay Brew Instructions
To set your Mr. Coffee delay brew up, you must first ensure that you have the clock in the machine set to the correct time. If you don't, you could end up setting your future brew at the wrong time too. To set the time, plug your coffee maker in and you'll notice the clock flashing 12:00. Press the hour and minute buttons until the current time is displayed.
The Mr. Coffee ABX Series instruction booklet explains that you next need to press the "Set Delay" button. The indicator light will illuminate, and the delay brew time will default to 12:00. You can then set the time you want your coffee to start brewing using the hour and minute buttons. But if you take too long, the display will revert to the regular clock, so be quick!
If you set the wrong time and want to cancel your delay brew, press the "Select / Off" button to turn the indicator light off. Activate delay brew by either pressing "Select / Off" twice or "Delay Brew" once, depending on which Mr. Coffee model you have.
You must also then put in your ground coffee and water as normal; otherwise, the brew cycle will run without producing any coffee. If you need more information, you can refer to a Mr. Coffee video that walks you through every step of using the delay brew feature.
Troubleshooting Mr. Coffee Delay Brew
Despite its relatively simple setup, you may experience some issues with your Mr. Coffee delay brew cycle. One thing that may be confusing is that the delay brew cycle doesn't automatically repeat every day. You'll need to remember to follow the steps for setting up the next day's brew cycle every night when you're adding your ground coffee and water.
Another issue you may face is difficulty setting your Mr. Coffee clock. If you're struggling to set the time, it may be worth contacting Mr. Coffee to get more specific help. If your Mr. Coffee clock is actually broken, it's worth noting that every machine comes with a one-year warranty.