Things You'll Need
Non-stick cookware repair spray

Oven

Dish soap

Sponge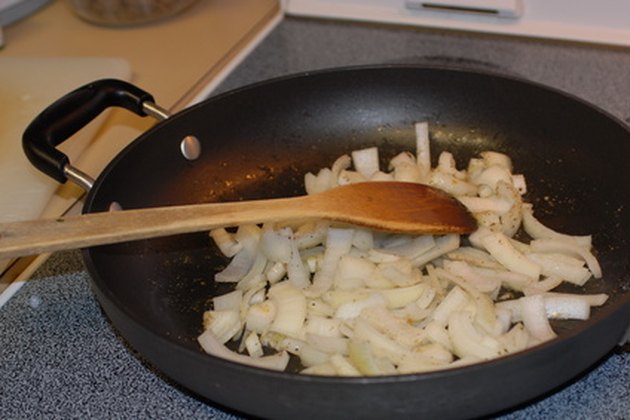 Non-stick cooking pans are coated with a Teflon layer so you can cook without worrying about food sticking. They are very convenient but can easily become scratched and damaged when you scrape them with metal spatulas or utensils. Additionally, Teflon flakes that get into your food can pose a health risk. Luckily, you can repair non-stick pans so they're as good as new.
Step 1
Wash the pan thoroughly so that no bits of food are stuck to the surface. Dry the pan.
Step 2
Spray a thick, even coat of non-stick cookware repair spray, found in home improvement stores or online, over the entire inside of the dry pan. Allow the pan to sit for 30 minutes. About 10 minutes in or so, preheat your oven to 500° F.
Step 3
Stick the pan into the hot oven and let it bake for 45 minutes. Turn the oven off and allow the pan to cool down completely while still inside the oven.
Step 4
Wash the pan thoroughly again with dish soap and a sponge before using.
---
Amy Lukavics is an Arizona resident who has been a professional writer since 2009. She contributes to the blog Hello, Moon and her writing interests include cooking, crafts, pregnancy, health and beauty.