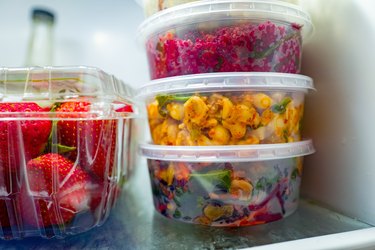 It's not always about the look. Cloudy plastic not only cuts down on the aesthetic, but it can also cut down on the functionality of the item.
When plastic on cups, plates, containers or other essential items, such as indoor light covers, becomes cloudy it can diminish its aesthetic as well as its effectiveness. However, cleaning cloudy plastic is rather easy and affordable.
Basic Ways to Clean Plastic
Foggy tumblers and bowls can be ugly to look at, but a good cleaning can easily remedy that problem. Cleaning plastic requires a bit of patience and gentle cleaners to remove a slight haze from the surface.
Before you begin, clean the plastic containers, lids or sheets to remove the first layer of dirty buildup. A good, basic plastic cleaner is simply plain hot water and a few drops of mild liquid dishwashing soap.
Toothpaste to Clean Plastic
Toothpaste is mild yet abrasive enough to cut through cloudy build up on plastic pieces. Wet the plastic thoroughly and then rub regular toothpaste onto the previously cleaned plastic items with a soft cloth or soft toothbrush. Make sure to cover the entire surface and allow the toothpaste to sit for a few minutes. Rinse dry and repeat if there is still a slight cloudiness.
One of the best ways to clean cloudy plastic is with baking soda or toothpaste. Both of these common household cleaners are gentle enough not to scratch the cloudy plastic. Mix equal parts of baking soda with toothpaste in a good amount that will completely cover the item you intend to clean. The added benefit of this cleaning method is that the baking soda will also brighten and deodorize the plastic.
The toothpaste helps the baking soda to sit on the surface of the plastic while it works to clean the item. Gently scrub the paste into the plastic while it is wet to get a good scrubbing action. Let this sit for a few minutes and up to an hour before rinsing dry.
Stubborn Stains on Plastic
A persistent haze can use a stronger cleaning solution. Merry Maids recommends rubbing the cloudy plastic item with a cut lemon and squeezing the juice into the container. Leave it in the sun for about an hour before rinsing and drying.
Soak the plastic item in a small bucket filled with vinegar for five minutes. If the cloudiness continues, sprinkle the item liberally with a layer of baking soda and immerse it in the vinegar bath. This should dissolve the film that clings to the plastic and creates that cloud.
Cleaning Plastic Outdoor Furniture
Dingy or cloudy outdoor plastic or hard resin furniture can be restored with a good cleaning and regular maintenance. A mild cleanser of a gallon of warm water with 3 tablespoons of dish soap can clean plastic outdoor furniture quickly. A damp rag dunked in plain white vinegar can take out tough stains.
Better Homes and Gardens recommends using ¼ cup of vinegar in a gallon of warm water to brighten dull patio furniture. Don't reach for the bleach, which can damage or dull the plastic and break the material down over time.
After thoroughly cleaning the plastic outdoor furniture, make sure to clean it once a month during the warmer season and cover each item when not in use for a lengthy period of time.