Tip
If your problem persists, call a qualified service representative.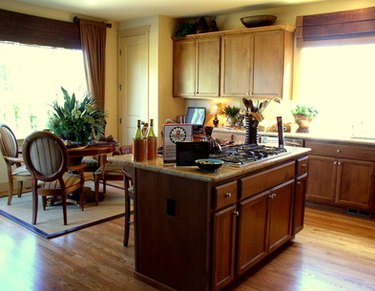 The dishwasher is essential for giving your dishes a deep clean without your having to do all of the work. The GE Adora was designed to run smoothly and quietly. It has six washing cycles to choose from. When the Andora isn't working properly, you might be tempted to call a repairman. With a little effort you can fix most basic problems yourself.
Will Not Turn On
Step 1
Go to your breaker box and make sure that a breaker has not tripped.
Step 2
Hold the "Heat & Dry" button down for three seconds on the control panel. This will unlock the panel from the dishwasher for your reboot.
Step 3
Unplug the dishwasher. Leave it unplugged for 30 seconds and then plug it back in.
Dishes Are Not Clean
Step 1
Make sure that the rinse agent is not clogged.
Step 2
Dip a sponge in hot water. Run it through the rinse agent to clear any gunk out of the reservoir.
Step 3
Use Jet Dry or Cascade in your rinse agent, as recommended by GE.
---
Charles Poole holds a Bachelor of Arts in creative writing from Appalachian State University. He started freelancing in college for local publications in Boone, N.C. and is continuing his career through online freelancing with a specialization in affiliate marketing, blogging and SEO.