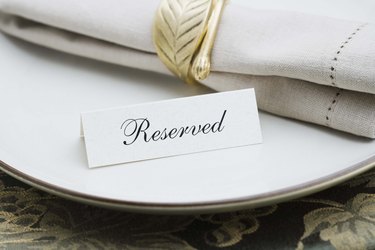 After 1901, the Shenango China Company underwent several transformations during the early years of its operation. The company, based in New Castle, Pennsylvania, continued operations until 1991 when it finally closed its doors. From 1909 to 1936, the company focused on commercial china for use in restaurants, hotels and large institutions. It wasn't until 1936, when Theodore Haviland, of Haviland and Co., broke away from the family company to begin producing his own china that he contacted Shenango China to manufacture Haviland-designed china and patterns for dishware, now highly collectible. To identify Shenango-made china, examine the company's marks for specific production years or look for the client's name and a date stamp.
Commercial Dishware
Collectors of commercial or restaurant dishware use the backstamp on the bottom of plates, teacups and saucers to determine the age of a piece. Because the marks made by the pottery company often changed by production years, these marks can help to identify the age of the china. In addition to the maker's mark, the Shenango China Company often added the name of the hotel, company or restaurant for whom they made the china. For example, in 1901 through 1926, the company used a circular seal bounded by the name of the company in the outer ring with the name of the buyer inside the seal, such as "Made for L. Barth & Son, N.Y."
The Shenango Indian Backstamp
While there isn't an official Shenango Indian tribe, the name comes from a displaced Seneca tribe that settled in the Shenango Valley along the Shenango River in the 1700s. In about 1912, the company developed a logo that includes a cross-legged breechcloth-covered Indian -- viewed as if you were standing to his right side and behind him -- decorating a piece of Native American pottery. This logo appeared in various forms, along with client's name, through 1979.
Blank Name
Sometimes the name of the blank body used for the china also appeared on the bottom of plates and saucers. For example, from the 1930s to about 1948, the Shenango Indian, kneeling on his right knee in front of a fire with a large decorated clay pot on his left, featured the colors blue, brown and tan with the words, "Ivory above the kneeling Native American, a small fire burning in front of him and "Shenango China, New Castle, PA, USA" beneath.
Date Codes and Patent Numbers
The company also used a series of date codes, sometimes with a letter followed by a hyphen and a number that signified the date when the china was made. Other pieces often included a patent number, a client's trademark, the Shenango logo or name on the piece. The searchable patent number can help establish that the year the piece was made. For instance, an item made in 1954 has the date code "E-12" beneath the company's name and location.