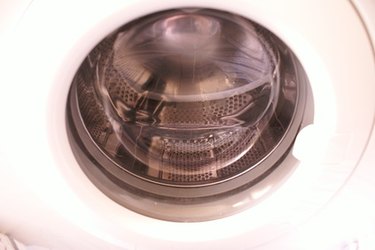 A Whirlpool Duet Washer is a front-loading, energy-efficient washing machine. The filter on a Whirlpool Duet is located under the front kick plate. A washer filter collects lint that falls from clothes during the washing process. The lint filter should be cleaned at least once every 6 months. If the lint is not removed, it can cycle back through the washing machine and stick to laundry.
Step 1
Remove the lower kick plate. Unscrew the two screws holding the kick plate in place, and gently pull off to remove. The kick plate is the lower outside cover of the washing machine.
Step 2
Place a small bucket under the white hose. Remove the cap on the white hose by untwisting it. Allow any remaining water in the hose to drain into the small bucket. There shouldn't be much water, but there can be some.
Step 3
Look inside the white hose. Remove any visible obstructions or lint.
Step 4
Look inside the hose cap. This is where the lint filter is. Remove any visible lint with your fingers. Rinse the hose cap under warm water to remove any remaining lint.
Step 5
Twist the cap back onto the white hose. Put the kick plate back in place. Screw back on.