The soft carillons of a Westminster chime clock can be soothing and add warmth to your quiet abode. If the chimes in your clock start going off at odd times, you may need to set the battery. This is also an ideal time to change any settings on your timepiece, from the volume of the chimes to the sound and hours of its dings and dongs.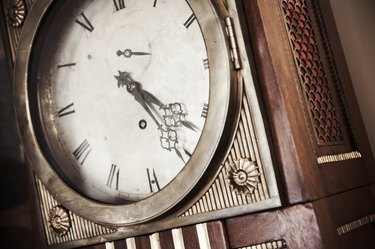 When to Change Batteries
The odd chimes coming from your clock are designed to get your attention. It's time to change the batteries. Clock the day you change the batteries in your Westminster, and plan to swap them out at roughly the same time next year. This will keep the clock in good time with a consistent chime year round.
How to Safely Swap Batteries
You don't want to damage the delicate machinery in the casings. For a Westminster chime clock, turn the piece around and unlock the pendulum holder in the back. Shift the pendulum locking device and place it on its hanger for safe keeping while you replace the batteries. Insert fresh batteries with the positive (+) symbol positioned at the top of the battery compartment.
Hand Considerations
To set the clock to the correct time, carefully turn the hands in a specific order. Set the minute hand first to the correct time and the hour hand should follow behind to the correct hour. If you have a knob for the hands, turn that clockwise or counterclockwise to get to the correct time. The chiming should begin in sync at the next full hour. If you hear inadvertent chimes at the quarter or half hour before the clock gets to the full hour, the clock should correct itself once it has passed that first full hour.
Knob Knowledge
If your Westminster chime clock has been bothersome throughout the year, such as ringing too loudly at night or chiming in a melody that isn't to your fancy, now is a good time to make adjustments. The melody, night shut-off or reduction and volume controls at the back of the clock can be easily attuned to your sound specifications. You can alter the melody to something more preferable, such as the "Ave Maria" feature that only chimes on the hour or shut the chime off altogether, say if you have a new baby in the house. If you want the clock to chime all day, leave it in the sun position. If you prefer the chime to only sound while you are awake, you can set it to the no moon position, and it will not chime for the eight hours you choose it to be silent. For instance, if you want the clock to be quiet from 10 p.m. to 6 a.m., place it in the no moon position at 10 p.m. and it will begin its 8-hour sequence from that night on.