Things You'll Need
Kenmore dishwasher

Wet cloth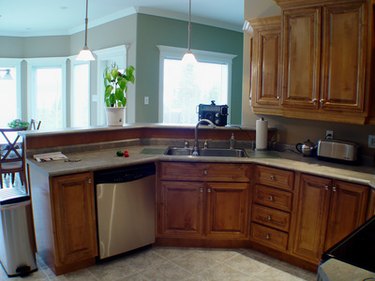 When the "Clean" light on your Kenmore dishwasher begins flashing on and off, it signals that something is amiss (water is not hot enough, water amount is too low, suds or foam were detected and so on), and the washer will not run. You can clear the fault message manually, which will put your dishwasher in a diagnostic mode and may fix the supposed problem. You can also pay a dishwasher technician to come to your home, clear the message and, if needed, run some tests. The former option is both free and easy. Follow the directions below before calling a technician.
Step 1
Press down the overfill protection float on the floor of the dishwasher's tub in the right, front corner near the door. If it cannot move up and down freely, the "clean" light will flash.
Step 2
Make sure the dishwasher's water supply is turned on.
Step 3
Look for suds on the inside of the dishwasher and wipe them off with a wet cloth. If the washer's sensor detects suds or foam, it may not run. Use the correct amount of dishwasher soap, not hand soap or detergent for washing dishes in the sink, to ensure suds and foam do not form. Also, make sure the cap on the rinse aid dispenser is secure--this will keep suds and foam from forming as well.
Step 4
Close the dishwasher door. Push the "normal wash" button, then push the "heated dry" button. Push the "normal wash" button again, and push the "heated dry" button again.
Step 5
Watch for all of the lights on your Kenmore dishwasher's panel to turn on and then turn off. The washer may start a new wash cycle at this point; if you do not want it to do so, press the "cancel" button. Otherwise, allow the dishwasher to run through this cycle.
---
Gail began writing professionally in 2004. Now a full-time proofreader, she has written marketing material for an IT consulting company, edited auditing standards for CPAs and ghostwritten the first draft of a nonfiction Amazon bestseller. Gail holds a Master of Arts in English literature and has taught college-level business communication, composition and American literature.