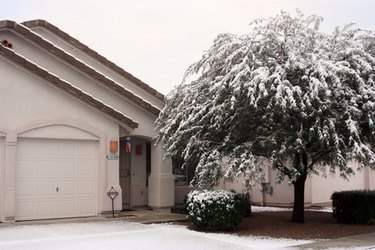 RiteTemp thermostats control the functions of a heating and air conditioning unit. They can be programmed to heat or cool at various times of day, and to attain specific temperatures. If problems occur with the thermostat or heating and air conditioning system, initial troubleshooting steps can be performed to diagnose the cause of the problem. In some cases, the issue can be resolved without the help of a technician.
Instructions
Step 1
Check to ensure that the remote and the thermostat are on the same channel if the remote is not working. Try some other channels if certain ones are not working until you find one that works well. Some channels will work better than others, depending on the conditions that the thermostat is installed in.
Step 2
Check the batteries if the system is running continuously. Replace the batteries if needed. Check if the thermostat is trying to produce hot or cool air. The display will indicate either the word "cool" or the word "heat." Change the mode setting to "Off" and the fan setting to "Auto." There may be a wiring problem if the system does not turn off.
Step 3
Allow the thermostat a chance to recover from heat it picked up from recent use. If the temperature reading is not accurate and showing a higher temperature than it should, the thermostat most likely picked up heat from someone touching the unit to program it. If the temperature is not accurate after several hours, the unit may need to be calibrated.
Step 4
Check if there is another device in the home that may be interfering with the thermostat. If the thermostat resets to the factory setting, there is most likely some RF interference from a furnace, electric air cleaner or another device. A device called a ferrite choke, which can be bought at electronics stores, can block the interference and solve this problem.
Step 5
Check the air filter if the heater is shutting off before it reaches the desired temperature. Replace with a new filter if the air filter is dirty or clogged.
Step 6
Check the batteries if the heat or cool was previously working and stops working. Replace with brand new batteries if needed. Reset the thermostat. Check the wires for any breaks or damage.