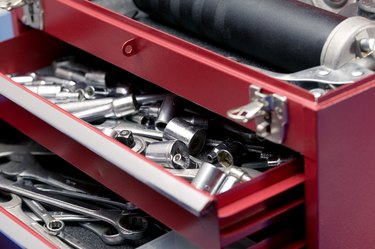 Craftsman tool chests are rugged and built to last. The drawers are spacious to accommodate most tools any handyman will need. There are times, however, that tools get stuck behind a drawer or the slides need cleaning for a smoother drawer glide. Remove the drawers from your Craftsman tool chest without using any tools. The drawers slide on drawer glides on each side. The drawers lock into the glides with either levers or tabs, depending upon the chest style.
Step 1
Open the drawer you want to remove and empty the contents.
Step 2
Pull the drawer out until it extends fully. Look on the side rail to see if you have a lever or tabs. If you have levers, pull each lever up or down, depending upon its current position. Pull the drawer out of the cabinet.
Step 3
Press the tabs on each side with your fingers, if your drawer uses tabs instead of levers. Pull the drawer completely out of the tool chest.