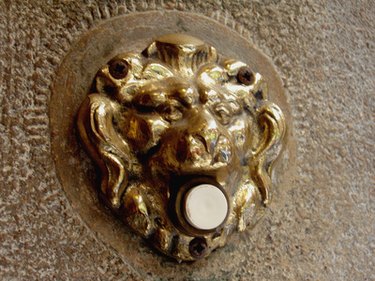 Wireless devices, such as wireless doorbells, make the life of the do-it-yourselfer much easier. With no wires to connect, installation is a breeze. However, just because wireless devices are easy to install and use does not mean that they are 100 percent free from the occasional problem. Knowing how to troubleshoot a wireless doorbell when it starts acting up will help you to extend the life of your purchase and avoid having to replace it too early.
Step 1
Open up the cover on both the wireless doorbell button device and the chime. Depending on your model, you may have to remove a small screw or two to do this or the cover may be pried off with a screwdriver.
Step 2
Replace the batteries in each device with a fresh set. If the wireless doorbell was working previously, then dead batteries are usually the cause of one that is not working now.
Step 3
Check the frequency indicator on both the button and the chime. They should both be set to the exact same frequency. The frequency is set by a series of jumpers, usually located near the battery. If there is a difference between the two devices, move the jumpers on one or the other so that they both are set identical. Using needle-nose pliers will make it easier to change the jumper settings. Put the covers back on and test the wireless doorbell. If it still is not working, continue to the next step.
Step 4
Remove the wireless doorbell chime from the wall and try placing it in a location that is closer to the doorbell button. If the wireless doorbell chime works when it is removed from the wall, it may be because it was secured to metal studs. Metal studs can interfere with the transmitted signal. This can be rectified by installing wood shims between the chime and the metal studs.
Step 5
Make sure that your doorbell chime is installed higher up on the wall. If you have a concrete floor and the chime is installed too close to the floor, the transmitted signal will be weakened. Position your chime at different areas on the wall to ensure that it receives a quality signal every time you press the doorbell.