Things You'll Need
Terra cotta fire bowl/chiminea fire pot

Metal stand

Builder's sand/pea gravel

Kindling

Fire logs

Long-handled lighter
Warning
If the selected terra cotta fire pit design is a chiminea, the heat and exhaust from the fire vents through the long chimney and rises. And rises. Thus, make sure there is nothing at all above a chiminea for that heat any any embers to damage.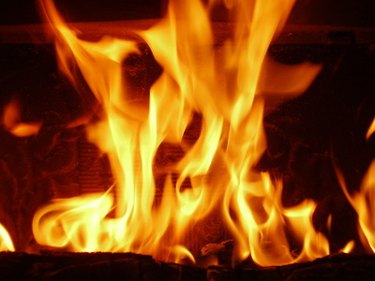 Making a fire pit in a terra cotta fire bowl or chiminea fire pot requires special attention to the requirements of the terra cotta clay. Heat a terra cotta fire bowl or chiminea too quickly and the terra cotta cracks and breaks. Fill a chiminea fire pot too thinly with the base materials that support the fire logs and the patio is flooded with smoke. Made correctly, however, a fire pit using terra cotta holds a long burning fire and provides hours of enjoyment as a warm, earthy addition to any patio or other outdoor decor.
Step 1
Research all relevant state law via the state legislature's website and all relevant local ordinances, usually available via Municode.com to make sure patio and backyard fire features are allowed, and incorporate any requirements into the design and placement of the terra cotta fire pit.
Step 2
Select an appropriate spot to put the terra cotta fire pit far enough away from structures and tree branches and on a fireproof surface such as on bare dirt or sand, on concrete or paving tile. Place the terra cotta fire pit in its final, properly selected place.
Step 3
Place a layer of builder's sand or pea gravel in the terra cotta fire pit. In a chiminea make sure the sand or gravel fills the bowl to a height of about two inches from the front opening of the fire bowl, which keeps the top of the fire above the opening and prevents smoke from escaping through the front of the bowl.
Step 4
Remove any cap or lid covering the pipe like chimney if using a terra cotta chiminea.
Step 5
Set kindling and a fire log or two on top of the sand or gravel, and light the kindling with a long-handled lighter.
Step 6
Keep the fire small for about the first 20 minutes every time the terra cotta fire pit is used to give the terra cotta clay an opportunity to warm up slowly, which prevents cracking and breaking of the clay. After about 20 minutes, stoke the fire and add additional logs and let the fire grow as desired.