Long-term excess moisture in a home is not normal, and warrants an investigation. If left untreated, it can be quite destructive. Mobile homes with walls that "sweat" are suffering from condensation. Condensation happens when gases turn into a liquid form. Condensation on walls can be bothersome. Hot air meeting with cold air, or cold air meeting with hot air, causes condensation. The good news is that there are ways to reduce the "sweating" of your walls.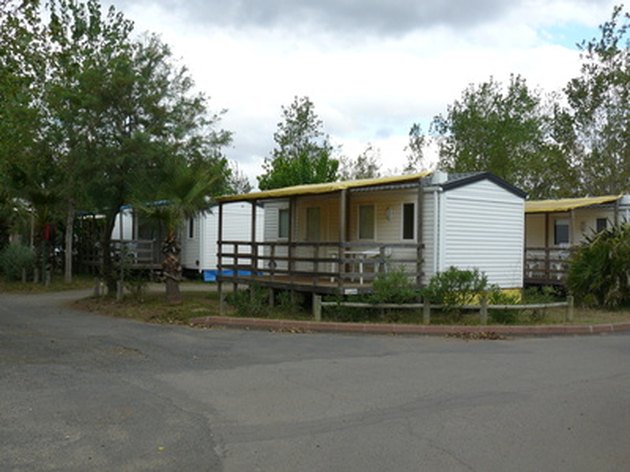 Step 1
Look under the mobile home to see if the home is set-up on a concrete slab or on solid ground. If the home is not on a concrete slab, apply a thick plastic sheet to the ground under the mobile home. Using either blocks or rocks, weight the plastic down to prevent transfer of moisture from the earth into the mobile home. The plastic barrier will also aid in the prevention of any rocks or weeds from growing under the mobile home.
Step 2
Remove a piece of paneling or drywall from the worst wall in the mobile home. Remove the insulation from each bay of the wall. A layer of plastic should be visible between the exterior wall and the outside sheathing. The plastic acts as a vapor barrier. If the home does not have this plastic barrier, you will need to install one. Use a thick plastic, and staple the plastic from the inside of the home, directly onto the studs showing from inside the wall. Replace the insulation and wall material. Repeat this process for the remaining walls.
Step 3
Check the roof of the home for any roof vents and proper ventilation. Without venting, air will not circulate throughout the home. If the home does not have roof vents, installation of venting is critical. To install a roof vent, pull the shingle away from the roof in a 10-inch by 10-inch square area. Cut a 9-inch by 9-inch hole in the roof. Place the vent over the hole. Use a roofing silicone caulking to seal the vent to the roof. Seal the outside edges of the vent. Replace the shingles to the vent flange, and nail back in place using roofing nails. For added security, seal the outside of the shingle with the roofing silicone caulking.
Step 4
According to Minnesota Blue Gas Association, these steps can reduce the amount of moisture in a home: Turn down or stop using a humidifier as they create moisture in the air. While cooking or bathing, use the exhaust fans in the mobile home. During the cooler months, open the windows for a short period to bring in dry air, and during the summer months use a dehumidifier. If the home has plants, reduce the amount of plants or do not water them as frequently as they release water vapors into the air.