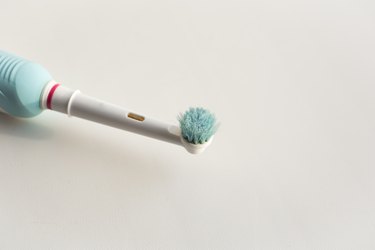 Things You'll Need
Large flathead screwdriver

A box or envelop large enough to ship the toothbrush's cord or entire toothbrush (optional)
Tip
You can also reuse the head of an electric toothbrush to clean the bathroom faucet, tile grout, tools, furniture, benches, clean vegetables, windows, computer keyboards, shoes and jewelry. Clean the bristles with a bleach solution before reusing the toothbrush, using one part bleach to two parts water.
When your electric toothbrush no longer works as it should or you acquire a new one, do you just throw it away? If you do, the toothbrush, its electrical components and batteries will just sit in a landfill. Batteries sent to the landfill may result in burned eyes and skin, polluted lakes and streams, or may leak into the water table and eventually contaminate our food. The best solution is to recycle the electric toothbrush and the battery.
Step 1
Insert the large flathead screwdriver into any available crevice on the toothbrush's body and wedge the toothbrush apart. The point is to break the body of the toothbrush open so you can dismantle it. This will enable you to recycle the different components appropriately.
Step 2
Remove the rechargeable battery. Take the battery to a Call2Recycle drop off location. In the United States, such locations include AT&T, Best Buy, Black & Decker, DeWalt, Home Depot, Lowe's, Milwaukee Electric Tool, Office Depot, Orchard Supply Hardware, Porter-Cable Service Centers, RadioShack, Remington Product Company, Ritz Camera, Sears, Staples, Target and US Cellular. Call ahead to ensure that the business will receive the battery.
Step 3
Determine whether your local recycling agency recycles electric toothbrushes and their plastic and metal components. Many agencies do not in the midwestern United States; however, several agencies on the coasts do. A simple phone call to your local agency will answer this question for you. If your usual recycling agency does not recycle electric toothbrushes, contact your local electronics recycling agency and ask them.
Step 4
Separate the metal portions of the toothbrush from the plastic portions of the toothbrush. Put the metal portions in the appropriate recycling container and the plastic portions in the appropriate recycling container if your local recycling agency or electronics recycling agency recycles electric toothbrushes.
Step 5
Place the toothbrush's cord into the mailing box or envelope. If your local recycling agency does not recycle the plastic and metal that compose the toothbrush, place these components into the box or envelope as well.
Step 6
Determine where to mail the electric toothbrush. There are several websites on the Internet that provide this information with a simple search. For example, one option is TDR Electronic Recycling in Fremont, California. TDR Electronic Recycling accepts cords and other electric toothbrush components and will recycle any electric toothbrushes it receives in the mail. The address is: TDR Electronic Recycling LLC, 45461 Fremont Blvd, #4, Fremont, CA 94538.