Things You'll Need
Water

PH testing kit

Trowel

Fertilizer

Pesticide

Fungicide
Tip
Search for pest- and disease-resistant strands of Joseph's Coat climbing rose to reduce potential damage and lessen the need for pesticides and fungicides.
Joseph's Coat can be grown as a shrub if you can't find a surface for it to climb.
Warning
Over-watering the plants increases the likelihood of fungus growth.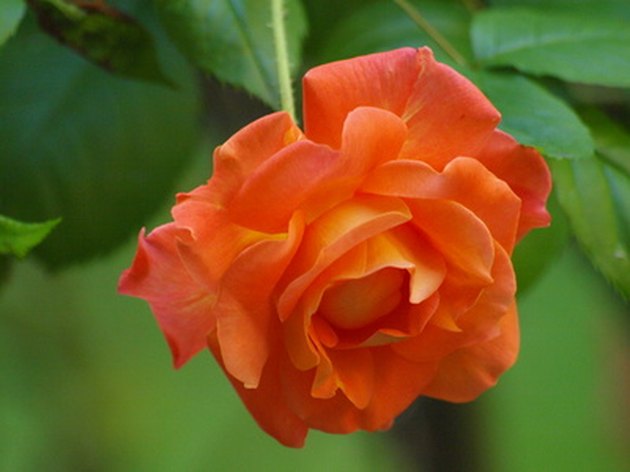 Joseph's Coat climbing rose grows up to 10 feet tall and produces large orange, pink, red and white flowers. Joseph's Coat blooms during late spring, summer and early fall. The plant needs ample sunlight to grow, and you must also provide it with regular watering. You also need to regularly weed the area around your roses to prevent diseases and pests from destroying the plants. You can additionally use pesticides and fungicides to kill organisms harming your Joseph's Coat climbing rose.
Step 1
Choose a sunny location with a soil pH of 4.5 to 8. You can use a pH testing kit from a garden supply store to ensure the correct pH level. If necessary, purchase and use pH adjusters to correct the pH level. Choose a location with a wall or stakes for the plants to climb.
Step 2
Use the trowel to dig holes approximately 4 feet apart for the Joseph's Coat plants. Soak the roots of the plants for three hours, then plant them in the holes, deep enough that the knobs on the Joseph's Coats are barely above the soil. Fill the holes with soil and soak them with water. Cover the knobs with a thin layer of soil.
Step 3
Water the Joseph's Coat climbing rose regularly to keep the soil moist but not fully saturated. Once rose flowers begin to appear, uncover the knobs at the bottom of the plants. Prune off pieces of the plant that die.
Step 4
Remove weeds around the plants and check for pests or fungus each time you water the Joseph's Coat climbing rose. Use pesticide and fungicide to kill pests and fungus if you spot any.
Step 5
Train your Joseph's Coat climbing rose as it grows by loosely tying it to the support surface you want it to climb. Without training, the Joseph's Coat will remain healthy but form into a shrub instead of a climbing plant.
---
Ben Joseph attended the University of Florida and received a B.A. in religious studies. He now lives North Carolina and has worked as a freelance writer for two years.