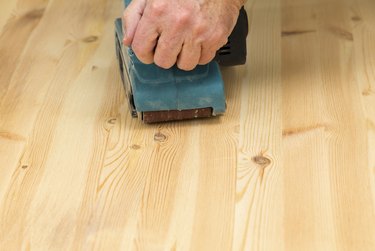 Based in Illinois, Sears produces the Craftsman line of tools, including its 3-by-21 belt sander, a reliable power tool that removes material quickly. Eventually, abrasive material wears away from the sanding belt, requiring the belt's replacement. Once you've changed the belt, take a moment to adjust its tracking.
Changing the Belt
Step 1
Unplug the sander from the receptacle and allow the belt to cool if the sander was just in use. Locate the tension release lever mounted on the idler pulley support, which is located between the two belt pulleys. Slide the lever up and toward the front of the sander, releasing tension on the belt.
Step 2
Pull off the old belt and put on a new one, making sure that the arrow stamped on the inside of the belt points in the same direction as the belt travels when the sander is in operation.
Step 3
Slide the tensioning lever down and toward the back of the sander, locking the belt into position.
Adjusting the Belt
Step 1
Locate the tracking screw, a round knob located on either the top or side of your Craftsman sander. Flip the sander over so that the belt faces up.
Step 2
Plug the sander in and turn it on. Watch the belt, determining whether it is tracking in the center of the sander, or wandering to one side or the other.
Step 3
Turn the tracking screw clockwise if the belt wanders outward, as if it will fly off the sander. Turn the tracking screw counterclockwise if the belt wanders inward, toward the sander's frame. Make incremental turns of the tracking screw as small adjustments make noticeable changes in belt tracking.