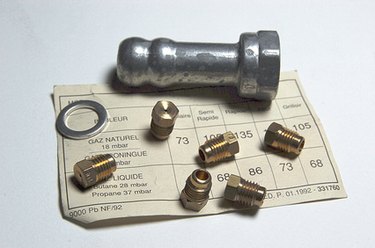 Propane is used as a cooking gas and sometimes as a heating fuel. Great care must be exercised when using propane because of its explosive qualities. Fittings, also known as compression fittings, are used to connect lines that transfer gas from a storage tank to the appliance where it will be burned. Make sure that these fittings and the hoses that accompany them do not leak.
Step 1
Wrap Teflon tape around the threads of the compression fitting.
Step 2
Insert the connection at the end of the hose onto the compression fitting and twist until it is hand tight. Continue twisting the hose end with a wrench until it is tight.
Step 3
Test the connection for leaks by splashing a small amount of soapy water onto it. After several minutes, bubbles will begin to appear if there is a gas leak. Tighten the connection, and then repeat the test. If bubbles appear a second time simply replace the compression fitting and hose. Repeat the test on your new fitting and hose.