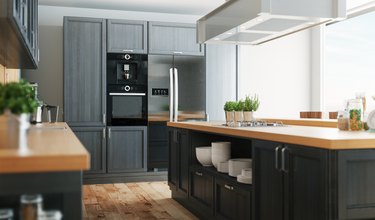 Wood flooring is a beautiful element included in many homes that adds an understated, elegant appeal to any room. Regardless of the type of flooring you have in your home, keeping your floors clean is an important part of making your home a safe and healthy environment for everyone who enters it.
Sweeping and vacuuming will go a long way in keeping your place looking great, but disinfecting your flooring should also be done regularly to keep potentially harmful germs from building up. Disinfecting hardwood floors is generally an easy and inexpensive process that can be done using store-bought or homemade cleansers.
Prepping the Floor
Before you begin to disinfect your wood floors with an antibacterial wood floor cleaner, it's important to prep the area, which helps provide a more thorough cleaning and may also prevent possible damage to your floors. Prepare your wood floors by vacuuming with an attachment that won't scuff the floor or sweeping any loose dirt or debris off the surface with a soft-bristled brush. If you can, open the doors and windows in the room you'll be working in to encourage airflow that can help your floors dry faster after they're washed.
Antibacterial Floor Wash
Disinfecting wood floors can be done easily with an antibacterial floor wash made for wood flooring, which can be found at many grocery, home repair and other retail stores. You can also make your own cost-effective DIY floor cleaner at home with nothing more than hydrogen peroxide, which lifts stains and dries those porous wood surfaces simultaneously.
To clean your floors with peroxide, simply pour 3 percent hydrogen peroxide into a spray bottle and spray it directly onto your wood floors. Allow the peroxide to sit for a couple of minutes before wiping it with a microfiber cloth, which won't damage the surface of your floors.
You may be tempted to use germ-killing bleach on your wood floors, but generally, disinfecting wood floors with bleach isn't recommended on interior wood surfaces. If you absolutely must disinfect your floors with bleach, you can, although it's suggested to keep it very infrequent, if more than once at all. To clean your floors with bleach, take extra care to dilute your solution, mixing about ¾ of a cup of bleach with one gallon of water. Mop it onto the surface, then let it sit for 5 minutes before carefully rinsing clean and allowing your floors to air dry.
What Not to Do
When it comes to disinfecting wood floors, knowing which products you shouldn't use is just as important as finding the right ones that work. When cleaning your floors, do your best to avoid using too much water and steer clear of using a steam cleaner to get the job done – either of which can warp the wood.
Certain household products like vinegar and baking soda are commonly used to clean various parts of the home but aren't recommended for cleaning wood floors as they can wear down the polyurethane coating, which gives wood flooring that glowing shine.
To keep your wood flooring looking its best, it's also important to make regular maintenance part of your routine. Even if you use the best hardwood floor cleaner and disinfectant money can buy, cleaning your floors only a few times a year will hardly do them any good, so remember, a little time spent will go a long way.
If you see a spill, wipe it up immediately and don't let it sit, which can prevent staining and the buildup of grime. To keep your floors clean and shining in between disinfectant cleanings, treat them with a quick wipe using a microfiber mop, cloth or pad.