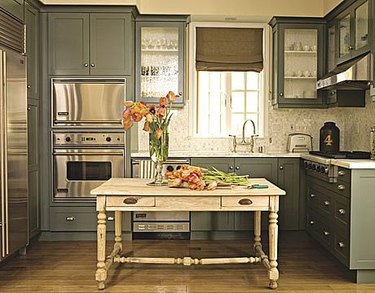 Some government money, distributed as a grant, can be used to build a house. How much of a government grant available to you to build a house is dependent on several factors. Some grants that are more limited are for low income families or disabled adults. Grants that may pay for parts of the building are less limiting and open to more people, like grants for building green. Grants are available from the government, but it will take a lot of research and persistence to acquire one of them for your own building project.
Step 1
To get government money to build a house for low income families or individuals with disabilities, contact the US Department of Housing and Urban Development (HUD), to obtain a first time home buyer grant. Some previous home owners may still qualify for the grants available. They will be able to help you pay for some costs of building a house and may qualify you for a low interest mortgage loan.
Step 2
To get government money to build a house for individuals and families that lost their home due to a disaster, contact the Federal Emergency Management Agency (FEMA). FEMA provides grants and financial assistant to victims of disasters who live in counties that have been declared official disaster areas.
Step 3
To find grants to help pay for building a home that is either green or to cover some energy efficient building materials enlist the help of the Database of State Incentives for Renewable & Efficiency (DSIRE). The database help determine what grants and rebates your state offers its residents. The database can be found at dsireusa.org and it is free to use.