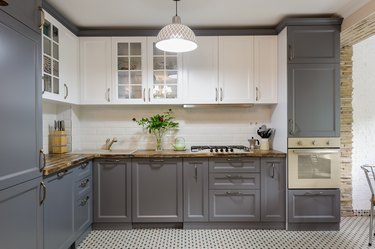 If your vinyl or laminate covered particleboard cabinets are peeling, you may want to consider giving them a fresh coat of paint. Repainting is an excellent way to update your home and is considerably less expensive than refacing or replacing the cabinets altogether. When repainting vinyl or other types of laminate cabinets, paint choice is extremely important. Since it is a plastic and not a wood, you need to use specialized paint.
Prepping the Cabinets
Before repainting vinyl covered kitchen cabinets, make sure the vinyl is in good condition. If it is too cracked or damaged, you may need to reface them instead. You also want to make sure they are clean even if there isn't any visible grime.
Experts recommend using trisodium phosphate, also referred to as TSP. Once done, rinse the cabinets off with clean water and dry thoroughly. Always wear gloves, protective eyewear and a mask when using trisodium phosphate since it is toxic. Do not let it come in contact with your skin.
Remove the hardware from the cabinets. Also, remove the cabinet doors. Label them to make reassembling easier. If you do not want to remove the doors and want to paint them in place, that is also an option. Be sure to place painter's tape over the hinges and the wall.
Sand and Prep the Vinyl
Gently sand the doors. Wear gloves, protective eyewear and a mask to avoid breathing in any dust. The vinyl or laminate covering is thin, so keep that in mind during sanding. Experts recommend 120 grit sandpaper or a motorized orbital sander. This will allow the paint to adhere better. Next, use a tack cloth to make sure there isn't any remaining dust before painting. You can also use a vacuum to clean up dust.
Next, use a high-quality primer. Better Homes and Gardens suggests Kilz Total One. Experts also recommend Insl-X Stix Waterborne Bonding Primer Acrylic Interior/Exterior. Apply it with a high-quality brush to avoid noticeable brushstrokes. You can also use a roller for larger surfaces. Allow the primer to dry. Once dried, sand again with fine grit sandpaper. Wipe once more with the tack cloth.
Selecting the Right Paint
Select paint that is specific to vinyl. Vinyl is a temperamental surface, and many types of paint will not bond well. Experts suggest latex-based paint or paint made to adhere to plastics. Better Homes and Gardens prefers Cabinet Rescue. This paint is available in white; however, it can be tinted beige, light gray or almond. A satin finish is great at masking scratches.
Oil-based paint works on some laminates as well. Experts like Nuvo Titanium Infusion 1 Day Cabinet Makeover Kit, which can be applied to laminate without a primer. You can consult with a paint specialist at a paint or hardware store to select a good match.
Painting Vinyl Covered Kitchen Cabinets
Before painting the entire area, do a test spot first to see how well the paint is bonding. A good place to test is the back of a cabinet door. Allow the paint to dry and look it over. If you see bubbles forming, then the paint is not adhering well and may not be a good fit. This may lead to paint peeling off the kitchen cabinets down the road.
Ventilate the area well and wear chemical-resistant work gloves. Be sure kids and pets are not near the fumes. Paint your primer or paint selection on the cabinet with a nylon brush, a sprayer or a paint pad to prevent strokes.
After the paint has dried, put on a wipe-on polyurethane varnish with a cotton cloth. Once the varnish has dried, put the hardware back in and rehang the doors. Follow product instructions for drying time.
Try these steps for a vinyl covered particleboard cabinet makeover and see how it transforms your kitchen.