While you may not think of putting stickers on anything made of wood, any surface looks like the perfect place for a sticker to a young child or to a resale-shop employee with a price-sticker gun in hand. The longer a sticker has been in place, the harder it may be to remove from finished or unfinished wood. A simple heat treatment and a natural adhesive solvent remove stickers from just about any wood surface.
Pick at a corner of the sticker with your fingernail until part of the sticker comes up. Continue picking until you've removed as much of the sticker as possible.
Rub your finger repeatedly over the remaining paper and glue residue. Depending on the type of adhesive, the debris may roll and cling to itself, similar to dried rubber cement. Roll away as much of the debris as possible.
Heat what is left of the sticker or its residue with a hair dryer set to its hottest option, holding the hair dryer a couple inches from the sticker. For a large sticker, heat the center first to loosen the adhesive then the outer edges for 10 or 15 seconds at a time.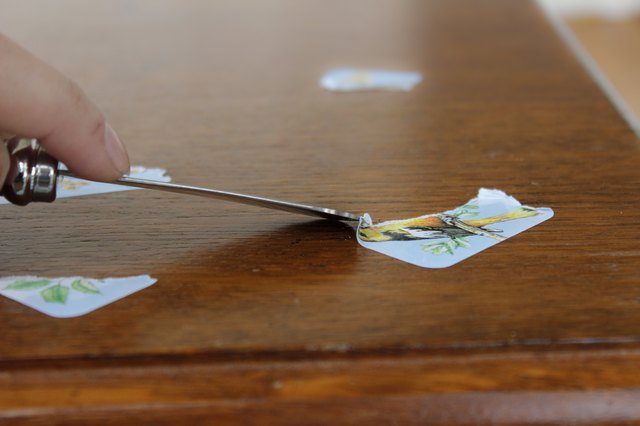 Slide a plastic putty knife under an edge of the sticker to loosen a corner, then peel it back, using the putty knife to continually pry up the sticker. If the papery part of the sticker has been removed, slide the putty knife over the warmed adhesive to loosen it from the wood. Continue heating and prying at any remaining portions of the sticker.
Pour some vinegar on a clean rag to remove remaining residue. Set the wet rag over the sticker residue for 15 to 20 minutes, then use the rag to rub away the residue. If the affected area still feels tacky, rub it again with the vinegar-soaked rag until the sticky substance is completely removed.