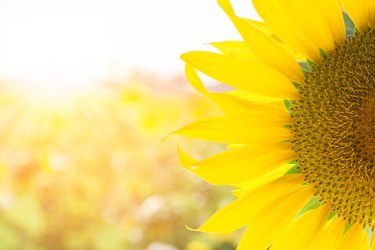 Things You'll Need
Yarn

Hanger

Hairspray

Decorative items

Straight pin

Hot glue

Hot glue gun
Tip
Cut the stem to fit the shadow box before mounting.
Display one large or several smaller sunflower head inside the shadow box, depending on its dimensions.
Display the shadow box away from direct sunlight to prevent damaging the dried sunflower head.
Gardeners grow sunflowers for their beauty and their sweet-tasting seeds. Instead of devouring the seeds and destroying the flower, turn these ornate reminders of summer into a family heirloom. Shadow boxes, which are enclosed cases that many use to create decorative keepsakes and dioramas, are an ideal choice to immortalize your sunflower blossoms for several years to come. Dry and mount the sunflowers correctly to ensure the project doesn't fall flat.
Drying the Sunflower
Step 1
Pull away the excess, brown or damaged foliage from around the sunflower's head. Cut the sunflower's stem to approximately six inches in length. Choose a sunflower bloom that isn't oversized and fits inside your shadow box.
Step 2
Cut off a six inch chunk of yarn. Tie one end of the yarn around a hanger and the other around the sunflower's stem. Hang the sunflower in a dry, dark place for at least two to three weeks. A closet, unused room or attic is an ideal environment.
Step 3
Remove the sunflower from the dry, dark space and cover the head with a light coating of hairspray. The hairspray preserves the head without discoloring the petals.
Mounting the Sunflower
Step 1
Remove the back of the shadow box and cover it with decorative items. Use wallpaper, decoupage glue and decorative paper or photographs to decorate the backing of the shadow box.
Step 2
Mount the sunflower's on the back of the shadow box with straight pin. Place a dab of hot glue on the back of the sunflower's head and hold it against the back of the shadow box for 30 seconds.
Step 3
Add more decorative elements to the shadow box, if desired. Otherwise, secure the back against the frame and display your shadow box.