Things You'll Need
Insulation

Foundation stone/brick

Electrical wiring

Duct work

Breaker Box

Heat pump

Stacked stone

Brick veneer

Tongue-and-groove boards

Hardwood

Tile flooring

Drywall

Joint compound

Paint

Baseboard material

Crown molding

Interior doors
Tip
Envision the window treatments from curbside, once the room is completed. Create a plan for how you will install plantation blinds, for example, so the room looks seamless with the rest of the house, which also has plantation blinds.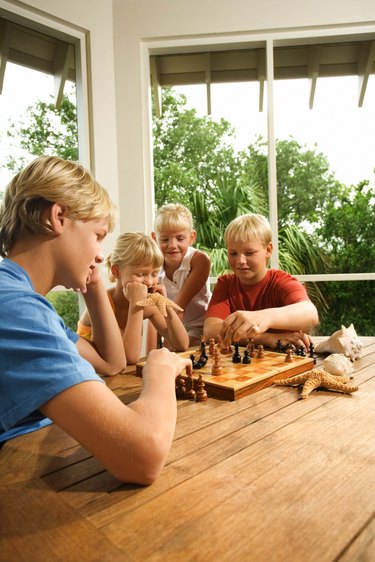 Remodeling a three-season porch into actual living space requires making the space snug. To utilize the room year-round, you will need to heat and cool it efficiently. In a best case scenario, you might be able to run duct work and venting to utilize your present heat pump. Every aspect of the porch structure will need careful evaluation so the conversion will be a successful project. From the exterior perspective, the foundation, exterior siding and roofing will need careful attention, so that the room looks original to the home's construction. The interior will also need to blend with nearby rooms.
Step 1
Assess the foundation of the porch. Install needed insulation under floor joists and enclose the sides of the foundation, if needed. Make the foundation snug, so that air flow will not channel cold air from the bottom of the room. Plan to use stone, cinder blocks covered with brick or house siding to encase the perimeter of the foundation.
Step 2
Route electrical wiring and duct work to the space. Gain assistance from an electrician to determine if your existing breaker box needs replacing; ask about the best ways to run wiring to light fixtures and outlets. Plan the best way to add duct work from the home's present heating system, if no new unit is required. Hire a professional to install a bigger heat system as another option, if the new room places too much demand on the old unit.
Step 3
Check out insulation needs for walls and ceiling areas. Convert the three-season room to an all-season room by taking down interior drywall and adding more insulation. Install smaller windows, as one option. Reduce the size of glass to make exterior walls less susceptible to losing heated air or cool air.
Step 4
Design and build new exterior walls, if needed. Make the exterior walls blend well with house walls already in place. Change the design to include a combination of materials for a contemporary look. Keep in mind that stacked stone, brick veneer and tongue-and-groove boards used on the entire exterior can yield a pleasing outcome. Cover the room to make it look as if it's always been in place as part of the house versus being added on.
Step 5
Remodel the interior to blend with other rooms. Create flooring that harmonizes with existing hardwood or tile flooring, for example. Install drywall and paint it the same color as an adjacent hallway or family room. Be sure to use baseboards, crown molding and interior doors that match what's already in place. Don't use trim and door jambs that look mismatched or you will decrease the home's market value.
---
Judi Light Hopson is a national stress management expert and psychology issues writer. Her column on relationships, co-written with a nurse and a psychologist, is distributed by McClatchy Newspapers to over 300 major publications worldwide. Ms. Hopson has written for employee assistance programs that serve over 15% of America's Fortune 500 companies. links provided below.