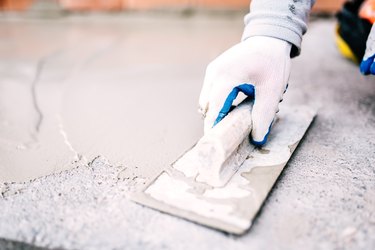 The American Society for Testing and Materials (ASTM) issues standards on material properties and testing. The American Society of Mechanical Engineers (ASME), meanwhile, specifies standards for materials to be used in construction and infrastructure. The correct standard to use is based on the specific contract or on local laws. The difference between the two sets of standards is less concrete–even for concrete.
ASTM
In his book "Biomaterials Science: An Introduction to Materials in Medicine," Buddy Ratner states that ASTM material standards can include the chemical, mechanical, physical and electrical properties of the material. These standards include both a description of test methods to be performed on building materials, and the size and shape that these materials are to take. Building materials like concrete can be required by local law to meet ASTM standards before being used in construction.
ASME
According to the "Companion Guide to the ASME Boiler & Pressure Vessel Code" by K.R. Rao, ASME material specifications are based on those published by the ASTM, AWS and other recognized national and international standards. ASME standards are legally required when building infrastructure like bridges, power plant piping and boilers.
Example of Joint Standards
The ASME Boiler & Pressure Vessel Code was first published in 1914. The original material specifications were developed in a joint effort of the ASME and ASTM for ferrous and nonferrous materials. However, this joint standard did not include filler materials.