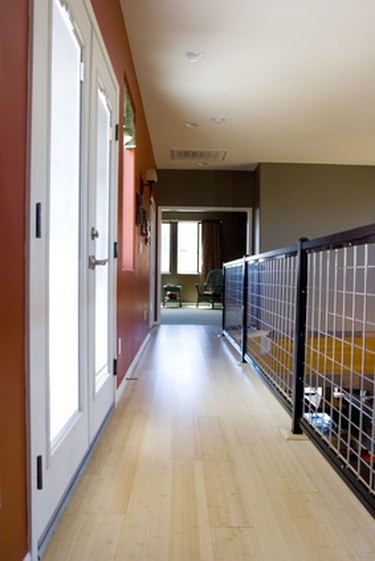 Laminate flooring is a durable, versatile product made to resemble wood or tile floors. Its tough top layer is permanent and cannot be stained or varnished. Laminate floors come in many styles and colors and are simple to install.
Laminate Materials
Laminate flooring has a wood core, but the top two layers are not wood. A highly detailed photographic image of wood or tile is fused to the core and topped with a sturdy melamine finish, according to Shaw Floors. Stain or varnish probably wouldn't adhere to this slick top coat, but might damage it.
Repair
Instead of staining or varnishing laminate floors, repair small scratches or mars with a filler product made specifically for that purpose. Most laminate flooring has a no-glue locking system. Replacing a few damaged or warped boards is a simple process for do-it-yourself homeowners. Simply unlock the boards near the baseboard, remove the damaged boards and install new ones.
Warranties
Laminate flooring is made to last. Warranties vary, depending on the material and the manufacturer, but most range from 15 to 30 years. Laminate floors are stain- and dent-resistant, so the average consumer generally has no reason to stain or varnish a floor. Instead, repair or replace a damaged laminate floor, based on the warranty details.