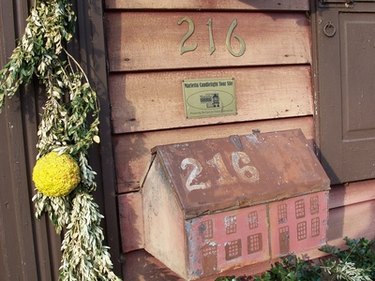 When attaching a mailbox to the outside of your house you should know what the pertinent U.S. postal regulations are since postal regulations are extremely specific for curbside delivery and central point delivery but seem vague for wall-mounted boxes.
Identification of Delivery
The U.S. Post Office has four different types of delivery. They are city, rural, curbside and central point. Before attaching a mailbox to your house you must be sure that your mail is delivered by a walking carrier who will be coming to your door. This type of delivery is almost exclusively in the city delivery system and will not be applicable to rural, curbside or central point delivery.
U.S. Postal Code
Postal regulations are very specific for mail box height when they are mounted curbside because the carrier needs to be able to access your mailbox from inside their vehicle without getting out. So they mandate things like mailbox height and distance from the curb. Standards for door slots are also quite detailed to provide for home delivery of all sizes of mail. The bottom of the slot cannot be lower than 30 inches above the floor so the mail carrier doesn't have to bend over too much. However, the U.S. Postal Service recipient services guidelines do not specifically address mailbox height for wall-mounted mailboxes.
Check With Your Carrier
Presumably, the regulations are less stringent because the carrier has more latitude when walking. So, the best we can do is extrapolate from these other regulations. However,common sense must prevail. Obviously you wouldn't want to put it so high the carrier couldn't reach it or below the 30-inch limit for door mail slots. if you are building an unusual mailbox that might cause problems because of size or dimensions, it is best to discuss it with your carrier before installation.