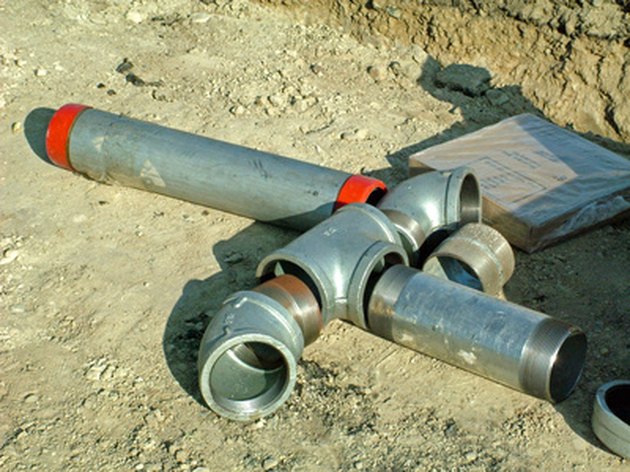 Despite the prominence of soldering and gluing techniques in modern plumbing, you still have to screw some pipes together. The threads on plumbing pipes are standardized.
History
Before plumbers started using copper pipes for residential plumbing, they used galvanized steel pipes, which have to be screwed together. The threads were standardized so the pipes would always fit. The term "pipe thread" refers to this standard thread, which is different from the thread on a garden hose or fire hose.
Designations
Since pipes have two male ends, most fittings, but not all, are female. Plumbers designate most fittings with a standard pipe thread as FPT fittings, which means "female pipe thread." FPT fittings are equivalent to "National Pipe Thread" (NPT) ones, but different from National Standard Free-Fitting Straight Mechanical Pipe Thread (NPSM) fittings.
Thread Size
The number of threads per inch (TPI) on an FPT fitting depends on the outside diameter (OD) of the pipe that fits into it. The TPI varies from 27 for a 1/2-inch pipe, to 8 for a 4 1/2-inch pipe. The thread size is always larger than the OD.
Thread Types
NPTF threads are variations of NPT threads that allow joining without sealant. Both threads are tapered and can be used together. NPSM threads, on the other hand, are straight and not interchangeable with the former two. Other thread types include Garden Hose Thread (GHT), Fire Hose Coupling (NST), and British Standard Taper Pipe Thread (BSPT).
---
Chris Deziel is a contractor, builder and general fix-it pro who has been active in the construction trades for 40 years. He has degrees in science and humanities and years of teaching experience. An avid craftsman and musician, Deziel began writing on home improvement topics in 2010. He worked as an expert consultant with eHow Now and Pro Referral -- a Home Depot site. A DIYer by nature, Deziel regularly shares tips and tricks for a better home and garden at Hunker.com.
View Work