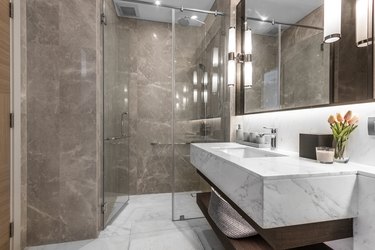 Many shower users notice all manner of buildup in their unit over time. But one which is slightly different from the others is the reddish or pinkish-tinged slime that can appear on your shower walls. Though sometimes referred to as red algae or pink mold, this is actually a bacterial growth of Serratia marcescens.
Not only is the growth unsightly, but it can actually have negative effects on the health of your household if left untreated. Luckily, removing the "pink mold" is a fairly quick and easy procedure.
Serratia marcescens is an airborne bacterium that loves moist conditions. This means it'll usually enter your house through a window or vent and thrives on your shower stall where things tend to be damp. The bacteria feed on old traces of soap scum, so a less clean shower can offer even better conditions for growth.
These bacteria can appear to be anywhere between a pale pink and a deep brick red, so keep an eye out for these sorts of shades. This growth is generally not dangerous to the skin but can enter through the body via cuts and cause health problems, especially to those with preexisting immune system conditions. It's particularly prone to creating infections in the bladder and urinary tract.
Another reason you'll want to treat your pink bacterial growth as quickly as possible is potential cosmetic damage. The pink tinge can stain paler shower units, meaning the longer you leave it, the harder it'll be to clean off.
Make sure you're wearing the right safety gear when working on removing these bacteria, as you want to limit your exposure. Wear gloves, goggles and a respirator mask. Using baking soda and dish soap can be a great way to remove this unsightly growth. Mix 1/4 cup of baking soda with 1 teaspoon of dish soap and apply this runny paste to the entire affected area using a soft-bristle scrub brush.
If none of these more natural solutions are working, bleach can be an effective method of dealing with Serratia marcescens buildup. Mix 1/2 cup of bleach into 1 gallon of water; then use a scrubbing brush to apply the solution to the area. Leave this mixture on for 20 minutes before washing away.
Keeping Your Shower Clean
Once you've removed the pink slime buildup from your shower, it's important to make sure it doesn't come back. The key to this is keeping your shower clean, free of soap scum and dry between uses.
To clean your shower stall, spray a mixture of equal parts dish soap and white vinegar across the whole area once per week. Leave it on for 10 minutes; then rinse your shower. Pay special attention to areas where soap scum builds up, like underneath your bottles of product and around any hard-to-reach corners.
It's also important to keep the humidity levels in your bathroom lower to prevent red slime from coming back. Dry your shower with a towel or squeegee after use to keep the walls free of moisture. You should also open a window or door after showering and consider installing an exhaust fan to keep moisture in the air as low as possible.