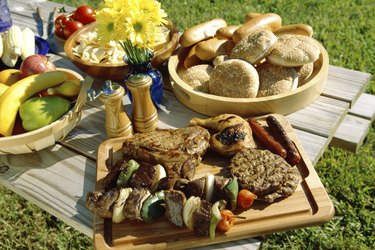 A picnic table holds the promise of alfresco delights in the midst of the natural beauty of your backyard lawn and garden. Left to nature, an uncoated wood table would eventually decay from exposure to sunlight, rain and wet, falling leaves. Fortunately, you can choose from an attractive array of stains, clears and paints that will add years to the life of your picnic table.
Semi-Transparent Stains
Left completely untreated, ultraviolet rays from the sun will cause exposed wood to lose its natural color, turn gray and begin displaying longitudinal cracks. A lightly pigmented exterior wood stain will enhance a wood table's true color and retard serious UV damage. Semi-transparent stains will not obscure the wood's natural grain and texture, and they are available in dozens of wood-tone hues that blend attractively with the colors of outdoor foliage. A high-quality stain will last as long as three years before recoating is necessary.
Solid-Color Stains
A solid-color stain will conceal the color variations within a wood tabletop but reveal plenty of the wood's natural texture. While this type of stain can be used on a new table, solid-color stains are more often used on wood that has endured several years of outdoor exposure. These stains are supplied in scores of wood tone colors as well as shades of driftwood gray. You can expect a high-quality solid-color stain to protect your table for as long as five years.
Acrylic Latex Paint
An acrylic latex paint forms a tough but flexible protective film over the wood table and seals away any damaging exposure from sunlight, rain and snow. While there are thousands of colors to choose from, most picnic tables are painted a glossy forest green, dark brown or black. Acrylic latex paints resist the chipping, flaking, and chalking that are characteristics of traditional oil paints, and you can expect the coating to last 10 to 15 years.
Clear Sealants
A clear sealant such as an exterior polyurethane finish or a spar varnish will protect a stained or painted tabletop from rain and snow -- and just as importantly, the sealant will prevent your wood from being discolored by spilled wine, mustard or barbecue sauce. An oil-based sealant will leave your table with a smooth surface. A water-based will raise the wood grain, which can be smoothed back in place by sanding between coats. A good-quality sealant will hold up to the elements for three to five years.