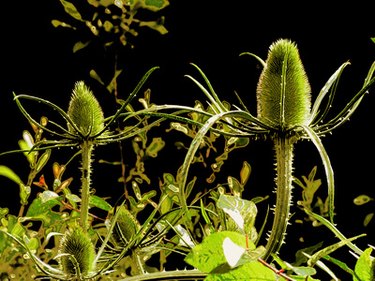 Infrared light is part of the electromagnetic spectrum. Technically, it is outside the range of light visible to the unaided human eye. According to NASA, infrared waves lie between the visible light spectrum and microwaves. The closer the waves are to the microwave end of the spectrum, the more likely they are to be experienced as heat. Infrared waves can also affect how plants grow.
Blooming
According to Texas A&M University, infrared light plays a part in the blooming of flowering plants. Plants grown indoors may grow well under fluorescent lights, but will not bloom until appropriate levels of infrared radiation have been introduced. This can be done using special horticultural lights, or simply by adding incandescent light bulbs.
Stems
According to Planta, increased infrared waves can affect the speed at which plant stems grow. A short exposure to far infrared light increased the space between nodes when the exposure occurred at the end of an eight-hour light period. Exposing the plant to ordinary red light reversed this effect. A combination of far red and red light produced the longest internodes. Plants grown in light that is too red may seem spindly and long-stemmed.
Damage
Too much infrared light, especially in the far red end of the spectrum, may actually damage plants. Heat may discolor or kill plants, especially if those plants haven't recently been watered. Too much infrared light may also cause plants to experience early growth spurts that reduce their health, or encourage them to flower too soon.
Measurement
Infrared waves can also be used to measure the growth of plants. According to Applied Spectroscopy Reviews, infrared microspectroscopy may be used to study plant development. Scientists using this technique inject the plants with a radioactive substance, then analyze their cellular development using infrared cameras. The radioactive substance emits infrared waves, which can be picked up by the camera. From this information, scientists can determine what is going on inside the plant.
Considerations
Correct infrared balance is important for indoor gardening. Conventional incandescent or fluorescent bulbs may not provide the correct amount of light, resulting in plants that are spindly, leggy or which bloom to early. Indoor growers may wish to use lights specially made for the purpose, or use a light meter to make sure their plants are getting the right light percentages.