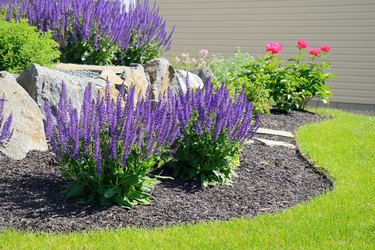 The main difference between landscape fabric and drain field fabric is the way in which the product is used. As the name implies, landscape fabric's design makes it ideal for laying in gardens and landscape projects. Landscape fabric helps retain soil and deter weeds. Once in place, the fabric gets topped with some type of ground cover like cedar chips or decorative stone.
By comparison, drain field fabric protects the sand filters in drain fields from soil that would otherwise clog them. Drain field fabric tends to be lightweight, one square yard typically weighing under an ounce.
Both landscape fabric and drain field fabric come in varying widths to suit different efforts, the most common being 36, 54 and 120 inches. Both are members of a fabric group called geotextiles.
Geofabric
Geotextiles like those made into landscape and drain field fabrics have numerous applications. They're designed specifically to increase the stability of surrounding soil. This, in turn, controls erosion and improves drainage. While this might sound like a high-tech solution, even the ancient Egyptians put fabrics into the ground with vegetation. The only real difference is that modern manufacturing produces non-biodegradable fabrics for long lasting results in a small backyard garden or in large construction projects.
Geofabrics come in two types: woven and non-woven. The non-woven fabrics are used in drain fields, in erosion control projects and as overlays for pavement. Woven geotextiles provide a lot of strength and durability but not as much filtration.
Drain Field Fabric Basics
Drain fields need to breathe to function properly. By laying drain field fabric between the soil and the stone, the fabric keeps out excess soil particles and sediment. Any such sediment seriously impedes a drain field's filtering capabilities. That's why drain field fabric is light weight compared to landscaping fabric. Note that landscape fabric has been used in laying a drain field, but it's not recommended. For drain fields, the fabric weight should never exceed 2 ounces per square yard.
A conventional drain field has a trench of rock with a perforated pipe on top. This pipe is covered with the drain field fabric, followed by a layer of crushed stone, another layer of fabric and then a final layer of soil no less than 6 inches deep.
Benefits of Drain Field Fabric
Filtration in a drain field happens because of the interaction between the soil and water flow. The lightweight nature of drain field fabric facilitates this interaction without sediment buildup. Permeability remains in the drain field fabric thanks to very tiny holes, giving it the effect of a reverse filter for the surrounding soil. Additionally, drain field fabric blocks root growth that would otherwise damage the drain field, similarly to how landscape fabric blocks weeds.
Landscape Fabric
Landscape fabric tends to be heavier than drain field fabric. It's placed on the surface of soil to block weed growth, improve erosion control and create an even look to an area for decorative purposes. Like any geofabric, some are woven and some non-woven. For longevity, woven landscape fabric has greater durability in the garden.
Like drain field fabric, landscape fabric lets water and air move through the soil. This also means that the soil temperature won't vary as much, protecting plants with delicate root systems. Landscape fabric works effectively under decks, sidewalks or in gardens with decorative ground cover like landscaping rock or mulch.
Landscape Fabric Limitations
There are some limitations to landscape fabric. This particular geofabric has been designed to be photodegradable so it doesn't harm soil quality. That means within five years you'll likely have to replace it, which is a lot of work. And because seeds and bits of dirt land in ground cover, you can still end up having to weed. It's also more costly than using plastic, but plastic doesn't let in water or air.
You can substitute drain field fabric for landscaping fabric, but it's not the best choice for above-ground functions.
---
Patricia Telesco has been a writer since 1992. She has produced more than 60 books with publishers that include HarperCollins and Simon & Schuster. Her articles have appeared in "Woman's World" and "National Geographic Today." Telesco holds a Bachelor of Arts in English from the University of Buffalo.