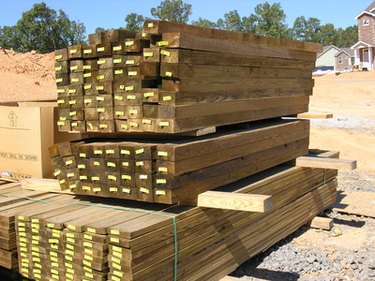 Several different chemicals are used for a diversity of wood product applications. Wood is treated to repel moisture, insects, fungus and mold. A sensitivity to the chemicals used in these processes often causes an allergic reaction. Symptoms include hives, skin rash and redness, an itching or burning sensation or blistered skin.
Pressure Treated Lumber
Pressure treated wood is the term applied to tree products permeated with chemicals. The wood is placed in a container, and under extreme pressure, chemicals are forced into the porosity of the wood. The chemicals protect the wood from termites, other invasive insects, moisture, and fungal rot and decay. Handling the wood without gloved protection or breathing sawdust as the wood is sawed may cause irritated skin, hives or painful welts, itching and red skin, or shortness of breath. Always wear gloves and a face mask when sawing treated wood.
Pressure-treated wood is used for floor and ceiling joists, exterior paneling and roofing. Wood that has been pressure-treated has a greenish tint that fades as it ages.
Creosote
Creosote is used to protect railroad timbers, fence posts and marine pilings and piers from exposure to moisture. Railroad workers and shipyard builders are at high risk. Excessive exposure to creosote has been linked to liver cancer. Handling creosote-treated timbers can cause hives and other symptoms typical of allergic reactions in persons sensitive to petroleum products.
Oil-borne Chemicals
Oil-borne chemicals are applied to utility poles, stadium bleachers, band stands, decks and patios to ward off termites, wood borers, beetles and ants. Waterproof ingredients are added to the mixture to prevent fungal growth, mold and decay. Log homes are often treated with this type of chemical application.
Waterborne Chemicals
The lumber used in the construction of buildings and homes is normally treated with a wide array of waterborne chemicals including ACQ-D Carbonate, Sodium Borates (SBX/DOT), Copper Azole (CBA-A & CA-B), Alkaline Copper Quat (ACQ-C or ACQ-D), Chromated Copper Arsenate (CCA-C) and Micronized Copper Quat (MCQ).
Chromated Copper Arsenate (CCA) is a chemical that should be handled with great care and caution. In use since the 1940s, chromium, copper and arsenic are part of the compound chromated copper arsenate (CCA). Due to the dangers presented by these wood preservatives, CCA is no longer used in outdoor recreational settings such as campgrounds, sports stadiums, playgrounds, patios and decks. The U.S. Environmental Protection Agency has issued limited approval of CCA as a restricted-use product. Do not use treated wood for raised gardens. The pesticide leeches into the soil. The chemicals are then absorbed by the fruits and vegetables grown in the contaminated soil. Gardeners should avoid direct skin contact with soil contaminated by CCA. Skin rashes, hives and itching may occur upon exposure.
Danger To Children
Children are exposed to toxins when they touch wooden playground equipment constructed from treated wood. If they touch the wood then touch their mouth, they can ingest the poison. Children should be urged to wash their hands after handling playground or wooden outdoor equipment. Do not serve food on treated wood tables or playground equipment. Bladder and liver cancer has been linked to treated wood as well as skin sensitivity and hives.
Never burn treated wood. The fumes are dangerous to breathe. Wood used for decks, playgrounds or fence posts should never be put in an indoor fireplace. Contact your city or county health officials for information on how and where to dispose of treated wood safely.