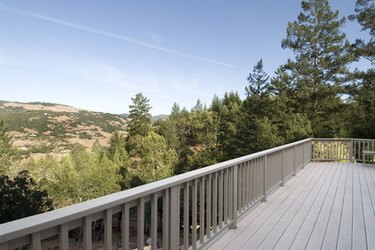 Building a deck in the state of Tennessee requires that you follow a specific set of standards for construction, which ultimately are controlled at the local level. These standards include the height for handrails. Before you can build a deck, you must obtain a permit through your local building commissioner. This agency will also provide you with your local building requirements and codes.
Standard Building Code
Most states have adopted standard building codes that are based on an international set of standards to ensure public safety. Standards are regulated through state and local government. Differences in local codes can lead to slight differences within Tennessee in requirements for deck handrail heights.
Tennessee Handrail Height
Building codes for handrail height may vary slightly throughout Tennessee. In Gallatin, Tennessee, for example, handrails must be installed on deck stairs that have three or more steps. The minimum height requirement from the top of each stair tread to the top of the handrail is 36 inches, while the maximum height requirement is 38 inches. Choosing the maximum height for the handrail will provide added security. In Knoxville, Tennessee, on the other hand, the minimum height requirement of handrails is 34 inches.
Guardrail Height
Another type of deck rail required in Tennessee is a guardrail—the rail that travels around the outer perimeter of a deck. When a deck is 30 inches or higher above the ground, a guardrail must be installed. In most of Tennessee, the minimum height for a guardrail is 36 inches.
Balusters and Spindles
Balusters and spindles—which are placed vertically between the top and bottom of a handrail or guardrail—must also follow Tennessee's local building codes. In Gallatin, Tennessee, for example, balusters and spindles cannot be spaced more than 4 inches apart. This distance is to ensure that small children can't stick their heads between the balusters or spindles. In Cleveland, Tennessee, on the other hand, balusters may not be spaced more than 3 inches apart.
Other Concerns
To obtain a building permit to build a deck, you must have a copy of the survey that was completed when you obtained your mortgage loan. Also, a deck must be placed a certain distance away from your property line. This information is given to you at the time that you receive the permit to build.