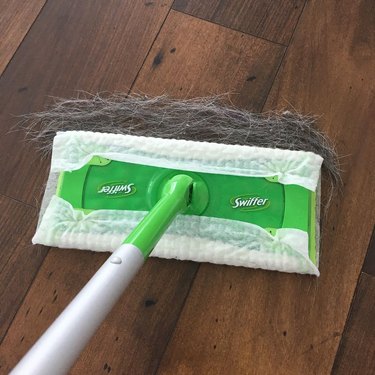 When it comes to quick cleaning sessions, you can't go wrong with a Swiffer Sweeper. The only problem? Cloth refills can be wasteful, especially if you use them everyday. But luckily, thanks to @brightly.eco on TikTok, we've discovered an eco-friendly alternative.
All you need is an old fuzzy sock. Simply wrap it around the Swiffer Sweeper head for a reusable dust mop. Once you're done cleaning, you can just pick off large chunks of dust and toss it in the washing machine.
It's worth noting that though @brightly.eco used this hack with a Swiffer Wetjet, they didn't necessarily use the sock as a wet mop. (A Swiffer Wetjet is a like a Swiffer Sweeper, but with a built-in spray system for cleaning solution.) Instead, they used it as a dry mop to collect debris like dust and hair.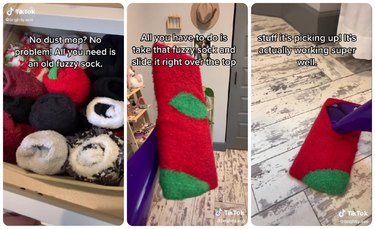 If you want to use a fuzzy sock as a wet mop, you'll likely need to make a few adjustments. According to one person who commented on the video, "It doesn't spray the cleaner correctly with the sock, but cutting a slit over the little nubs allows it to spray." Good to know.
However, there are many unexpected ways to use Swiffer Sweepers, so don't limit yourself to the floors. You can also use the fuzzy sock hack to clear out cobwebs and dust in hard-to-reach corners. See you never, spiders.
Thanks to the long handle of a Swiffer Sweeper, you can use the tool to clean mirrors and windows. Wrap a microfiber polishing cloth around the head of your Swiffer Sweeper, then spray a glass surface with glass cleaner. Finally, push the cloth-covered mop across the glass by moving the handle.
Alternatively, you can try a hack for making your own Swiffer WetJet cleaner refills. Not only will it help cut down on plastic waste, but it will save some money too.