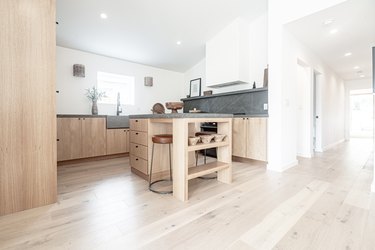 If you have vinyl plank flooring that snaps together, odds are you'll deal with the pieces coming apart at some point. This can leave unsightly gaps in your floor where dust and dirt collect. Fortunately, thanks to Instagram user @miillersconstruction, we've discovered a way to easily reconnect vinyl flooring and remove gaps.
In their video, @miillersconstruction places a piece of tape on the floor plank that has come unsnapped. They apply a strip of hot glue onto the tape and attach a small piece of wood. The piece of wood is then hammered in the direction of the floor gap, which allows the vinyl plank to snap back into place. It's that easy!
"I've used this method several times and it's never let me down," wrote @miillersconstruction. "We installed a floor six months ago and only after we finished did we realize that we had overlooked a plank and never got it completely seated properly. It was right in the middle of the hallway, which is a high-traffic area, but also it was a solid 18 to 20 feet from [the] end of that particular row of planks. We successfully locked it in properly from that distance. Never underestimate the power of hot glue!"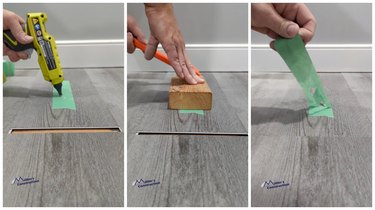 With these four tools, you can snap your floor back together in no time. The best part is that when it comes to cleanup, you can simply remove the piece of wood with your hammer and then peel up the tape. No harm done!