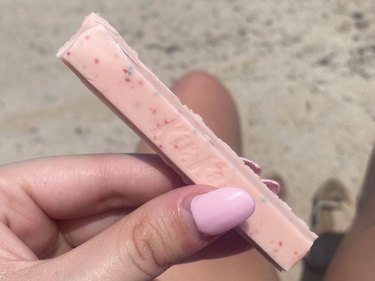 Who doesn't love trying all the unique flavors that Kit Kat has to offer? We're talking strawberry and dark chocolate, gingerbread, and even "witch's brew" (aka marshmallow creme). To add to that list — and our cravings — Kit Kat just announced its latest flavor: blueberry muffin.
Starting this month, the limited-edition Kit Kat bar will be available. "[It] captures all the best qualities of the fan-favorite baked good with notes of fresh and cooked blueberries, a cake batter-like muffin flavor, and graham cookie pieces folded into the bar," reads the brand's PR Newswire release.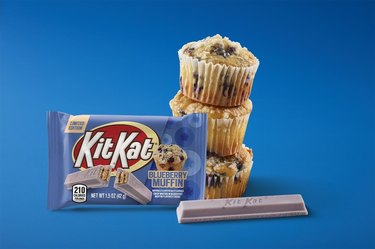 Featuring blueberry muffin-flavored creme wrapped around crunchy wafers, the new Kit Kat is meant to taste like a fresh blueberry muffin that just left the oven. It will be available in a standard 1.5-ounce bar, 3-ounce king bar, and .49-ounce snack bar.
"Truly a spectacle! I ate six wafers (to be thorough) and I love it!" wrote Instagram user @mnmtwinz in their review of the new item. "The wafer adds that bready taste and provides texture while the blueberry creme bursts with bright blueberry but not in a sugary/over-sweet way. Yes, it is sweet, but not that pure sugar-topped muffin way. It's sweet from the depth of blueberry goodness," wrote @dadbodsnacks.
Where to buy the Blueberry Muffin Kit Kat:
According to the brand's press release, this new Kit Kat will be sold at retailers nationwide. While the blueberry muffin offering is not yet available on the Kit Kat website — when it is, you can shop it here — you can typically find Kit Kats at stores like Walgreens, Walmart, Target, and Kroger.
Since this is a new item, you should give your local retailer a call to make sure the Blueberry Muffin Kit Kat is in stock.
We can't wait to give this Kit Kat a taste and see if it actually tastes like a freshly baked blueberry muffin.