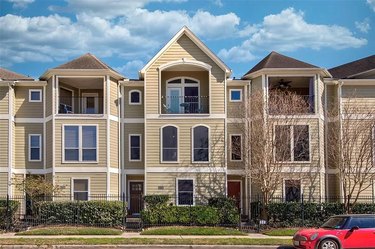 If you love the TV show ​Friends​ with a burning passion and are in the market for a townhouse, we have amazing news. Thanks to @zillowgonewild, we just came across a $330,000 Houston, Texas, townhouse that was designed by someone who lives and breathes (literally) ​Friends​.
In the two-bedroom, three-bathroom, 2,015-square-foot home, you'll find several homages to the sets and scenes on ​Friends​. Let's start in the living room, which was modeled after Central Perk — mustard-yellow sofa and all. There's even a wall mural showcasing the exterior of the coffeehouse.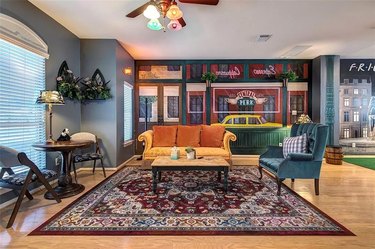 What's perhaps most impressive are the different-colored lightbulbs, which appear to match the multicolored lighting used on the show.
On your way to the kitchen, you'll transition into the outdoor fountain scene from the ​Friends​ opening credits.
Then, you'll enter Monica's kitchen with blue cabinetry, faux brick wall decals, and even mini curtains covering the area underneath the sink.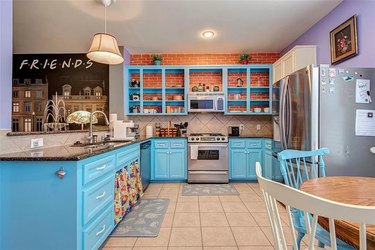 Our favorite part of the residence has to be the staircase mural that shows Ross screaming "Pivot!" while carrying a couch up the stairs.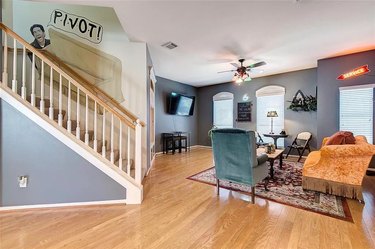 Of course, there's also a room with a foosball table à la Chandler and Joey.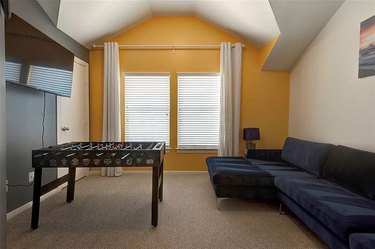 If you, too, are never tired of all things ​Friends —​ or would prefer to try your hand at listing the home on Airbnb, like the previous owner — you can find this listing here.