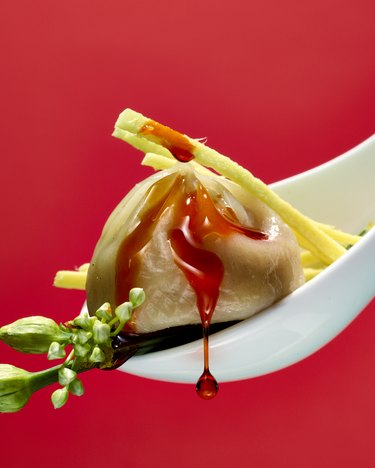 If you're looking to get your hands on Fly By Jing's new frozen dumplings, now is the perfect time. Within two months of being released, the company sold over ​a million​ of the dumplings before selling out. Thankfully, the dumplings are back in stock for anyone who wants a quick-but-still-delicious meal.
For $39.99, you can get two packs of one of the following flavors: pork, shrimp, and scallop; pork xlb soup; and pork, shrimp, and mushroom. A six-pack variety is also available for $107.99. Plus, Fly By Jing is now offering a dumpling subscription that allows customers to get 15% off every order in addition to free shipping for at least four packs. The delivery frequency can be every one, two, or three months.
"I made these for myself because I couldn't find good quality frozen dumplings out there, and I'm so excited to share these amazing flavors with you, right in the comfort of your own home," said Jing, the brand's founder.
Of course, these dumplings would also pair perfectly with Fly By Jing's 10-Year Aged Black Vinegar or any one of the Triple Threat sauces. The latter includes Zhong Sauce, Mala Spice Mix, and Sichuan Chili Crisp. Perfect for a bit of heat.
To see all of Fly By Jing's offerings — including the sought-after frozen dumplings — click here.