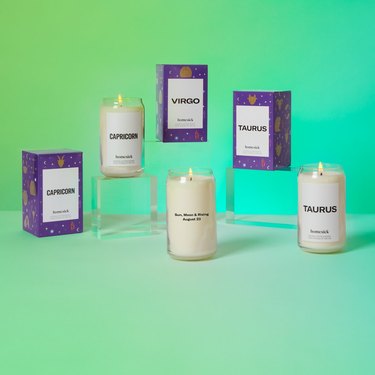 These days, it seems like everyone is into astrology. So when the holiday season arrives, one easy way to find the perfect gift for someone is to think of their zodiac sign. It still makes for a thoughtful, fun gift, but is a lot simpler than trying to figure out exactly what your recipient has on their wishlist. To help with this, Homesick just released its Astrology Collection, a celestial line of candles for each zodiac sign.
In collaboration with astrologers Ophira and Tali Edut — also known as the AstroTwins — Homesick has crafted one candle for each of the twelve zodiac signs. "These scents unlock each star sign's distinct personality, dreams, and desires," the brand writes on Instagram.
Here are a few of the scent notes you can expect to find within your sign's candle:
Each natural soy wax blend candle costs $34 and comes in special packaging designed specifically for each sign. Plus, you can personalize the back of the candle's jar for an additional $15.
If you're looking for a thoughtful gift that's a quick, easy find, we highly recommend snagging a few zodiac candles for your intended recipients — especially if they're interested in astrology. To shop Homesick's entire Astrology Collection, click here.