Odds are you've had an upstairs neighbor at some point in your life (and if you haven't, what's your secret?!). That means you've experienced what it's like to hear every single sound someone makes over the course of the day — from exercising and vacuuming to running around everywhere and dropping random objects that seem to be bowling balls? This is even more pronounced when there are multiple people living above you — or, worse, pets who often get the zoomies.
The only good thing we can think of when it comes to having an upstairs neighbor is that it's super relatable. That would explain why we can't get enough of TikTok user @luielliott's video with the caption, "Daily life as an upstairs neighbor." It captures exactly — ​exactly​ — what we imagine our upstairs neighbors have been doing all this time.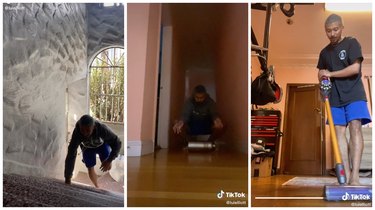 Between running up the stairs on all fours and constantly moving furniture to forever vacuuming hardwood floors and rolling metal objects around, @luielliott nailed it. While watching the video, we couldn't help but look at our ceilings and think, "So this is what you're doing up there."
Upstairs neighbors, beware: We're on to you now.
---
Anna is a Los Angeles-based writer and editor who covers lifestyle and design content for Hunker. She's written for Apartment Therapy, the L.A. Times, Forge, and more. She previously worked as the lifestyle editor at HelloGiggles and deputy editor at So Yummy. Her email: anna.gragert@hunker.com