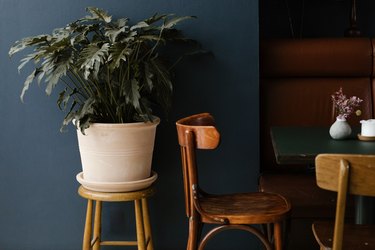 To get information on these hotspots in America, Glidden referenced some recent U.S. News data that highlights the 25 best places to live from 2021 to 2022. Specifically, the brand looked at the top five trending cities: Boulder, Raleigh and Durham, Huntsville, Fayetteville, and Austin, with Boulder being the number-one most popular place.
In each of the five sought-after U.S. cities, Glidden rounded up the top five paint colors residents have been purchasing. It's a great cheat sheet for anyone looking for inspiration for their new or remodeled home, or even a fun DIY project.
In Boulder, Colorado, people are loving a standard white, shades of gray, and dark blue. Here are the exact paint colors:
As for Raleigh and Durham, North Carolina, it's been all about blue-gray shades, beige, a classic white, and grays with darker tones:
In the third trendiest city, Huntsville, Alabama, residents have been into tans, blues, and gray-beige colors:
Next up, in Fayetteville, Arkansas, we have a fairly neutral color palette with an unexpected brick-red shade:
Lastly, for number five on the list — Austin, Texas — we've got gray, blue, and a pop of sage green:
It's fun to know what people in America's trendiest cities are loving when it comes to home paint colors. Now we've got all the inspiration we need to update some of the walls in our own homes.