There is something so perfectly delicious about a simple hard-boiled egg and, fortunately, there are many different ways to make one. For example, TikTok's @return.of.the.makk just showed us that we can easily make hard-boiled eggs without a drop of water or a stovetop.
Using an air fryer, you can hard-boil however many eggs you'd like (as long as they fit inside the fryer). Simply place the eggs in the device, set the temperature to 250 degrees Fahrenheit, and then air-fry the eggs for 16 minutes. After, safely transfer the eggs into an ice bath for five minutes. And that's it!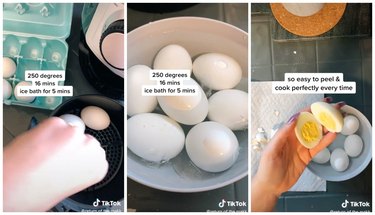 User @return.of.the.makk says that her air fryer eggs peel easily and cook perfectly every time. Plus, you don't have to wait for water to boil or keep an eye on them while they're cooking. It's a pretty effortless hack.
Who else is egg-cited for this one?