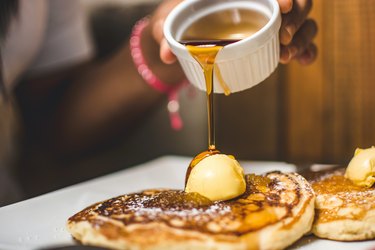 Vermont sugar makers have seen a 21% decrease in production this year as compared to last year, according to a recent United States Department of Agriculture news release. The state is the top-producing in maple syrup. The decrease has occurred despite having more taps (approximately a 4% increase from 2020) installed for sap harvesting.
"Mother Nature was the story in 2021," Vermont's agriculture secretary Anson Tebbetts said in a statement. "Vermont maple producers were faced with wild weather changes, ups and downs, starts and stops."
Because of the fluctuations, the sugaring season dropped from 38 days in 2020 to just 28 in 2021.
Now, don't run to the grocery store and buy up all the bottles of your favorite breakfast condiment. There's actually no major need to worry yet — this season's low harvest is not expected to have an impact on maple syrup's availability on the shelves.
Allison Hope, executive director of the Vermont Maple Sugar Makers' Association, told ​Burlington Free Press​ that ​one​ less-than-ideal year wasn't cause for alarm.
So here's to hoping for robust sap flows in 2022, lest we have to eat our pancakes and waffles dry!
---
Stefanie is a New York–based writer and editor. She has served on the editorial staffs of Architectural Digest, ARTnews, and Oyster.com, a TripAdvisor company, before setting out on her own as a freelancer. Her beats include architecture, design, art, travel, science, and history, and her words have appeared in Architectural Digest, Condé Nast Traveler, Popular Science, Mental Floss, Galerie, Jetsetter, and History.com, among others. In another life, she'd be a real estate broker since she loves searching for apartments and homes.
View Work