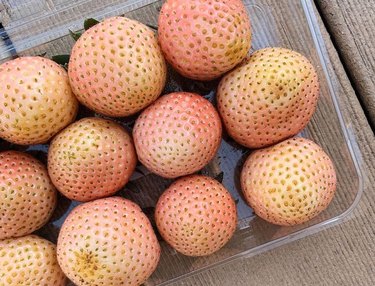 We consider the grocery store to be a pretty familiar place, but sometimes, we're left confused by a certain item. This time around, that product would be light pink strawberries. What are they?!
The Produce News reports that Driscoll's has started selling ​both​ light pink strawberries and raspberries for the summer season. They are known as rosé berries and yes, they are supposed to taste like everyone's favorite summer wine.
Rosé strawberries are said to have a creamier texture and peachy, floral flavors. The same goes for rosé raspberries, which are bred using golden and red raspberries. Both berries are limited-edition and were made using traditional breeding methods, which means they contain no genetically modified organisms (GMOs).
To ensure that your grocery store has these in stock, you can use the "where to buy" page on the Driscoll's site.
Just imagine how amazing these light pink strawberries and raspberries would taste with a glass of rosé.
---
Anna is a Los Angeles-based writer and editor who covers lifestyle and design content for Hunker. She's written for Apartment Therapy, the L.A. Times, Forge, and more. She previously worked as the lifestyle editor at HelloGiggles and deputy editor at So Yummy. Her email: anna.gragert@hunker.com
View Work