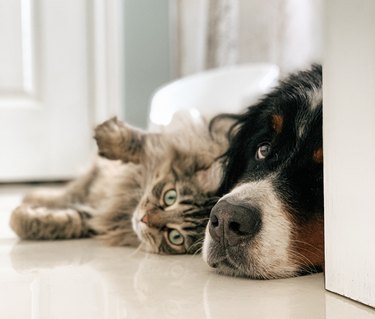 The CDC wants you to stop kissing and cuddling your chickens and ducks. Really. This is because, according to the organization, 163 people have fallen ill and 34 people have been hospitalized across 43 states due to salmonella outbreaks linked to backyard poultry.
"Backyard poultry, like chicken and ducks, can carry ​Salmonella​ germs even if they look healthy and clean. These germs can easily spread to anything in the areas where they live and roam," reads the CDC's statement. "You can get sick from touching your backyard poultry or anything in their environment and then touching your mouth or food, and swallowing ​Salmonella​ germs." Yikes.
So, what should you do if you have beloved backyard chickens or ducks? The CDC has advice, which includes the following:
Wash your hands after touching your backyard poultry or anything in their area. Use hand sanitizer if soap and water aren't available.
Do not kiss or snuggle and eat or drink around your chickens or ducks.
Keep your chicken and duck supplies clean and outside of the home.
Do not leave children unattended when they're around chickens or ducks. If they are under 5 years old, do not let them touch backyard poultry.
Ensure that you are safely and frequently collecting eggs.
Typical salmonella symptoms include: fever, stomach cramps, and diarrhea. The CDC states that most people are able to recover without treatment in four to seven days. However, you should call your doctor immediately if you experience more severe symptoms like a fever higher than 102 degrees Fahrenheit, diarrhea that isn't improving after three days, uninterrupted vomiting, bloody diarrhea, and signs of dehydration.
For more information, you can see the CDC's investigation notice here.